Blog Topics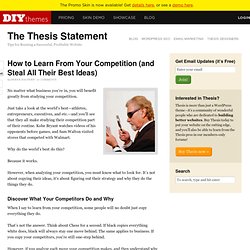 No matter what business you're in, you will benefit greatly from studying your competition. Just take a look at the world's best—athletes, entrepreneurs, executives, and etc.—and you'll see that they all make studying their competition part of their routine. Kobe Bryant watches videos of his opponents before games, and Sam Walton visited stores that competed with Walmart. Why do the world's best do this? Because it works.
How to Learn From Your Competition (and Steal All Their Best Ideas)
Developing an unbeatable article marketing strategy is one of the proven methods to increase traffic to your webiste. In this article I will review just a few article marketing strategies and tips which should help you achieve good outcome in less time. Generally, bringing the proper article marketing strategy into a business is, for most people, a BIG struggle. Many don't know how to do it or where to start.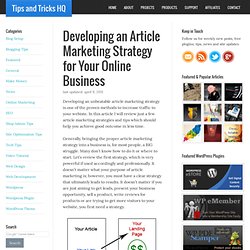 How to Develop an Article Marketing Strategy for Your Online Business
Mediocrity is for losers. The online arena attracts thousands of new, HUNGRY digital creators, and guess what? They ALL want a piece of the digital pie. If you don't offer something remarkable, something people share and talk about, you're toasted. All is not lost, though. If you make a conscious effort to push your comfort zone, and deliver talk-worthy, ass-kicking work, you can stand out from the crowd.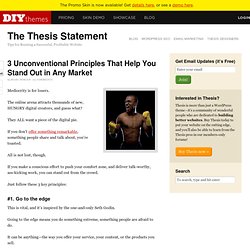 3 Unconventional Principles That Help You Stand Out in Any Market
How to Learn From Your Competition (and Steal All Their Best Ideas)