Latin American Literature
Gabriel García Márquez - Michael Palencia-Roth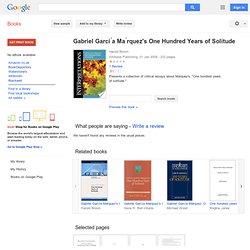 Gabriel García Márquez's One hundred ... - Harold Bloom
Harold Bloom was born on July 11, 1930 in New York City. He earned his Bachelor of Arts from Cornell in 1951 and his Doctorate from Yale in 1955. After graduating from Yale, Bloom remained there as a teacher, and was made Sterling Professor of Humanities in 1983. Bloom's theories have changed the way that critics think of literary tradition and has also focused his attentions on history and the Bible. He has written over twenty books and edited countless others.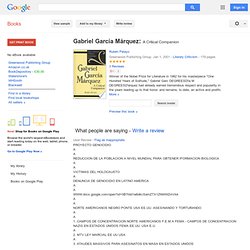 Gabriel García Márquez: a critical ... - Rubén Pelayo
Winner of the Nobel Prize for Literature in 1982 for his masterpiece "One Hundred Years of Solitude," Gabriel Garc DEGREESD'ia M DEGREESD'arquez had already earned tremendous respect and popularity in the years leading up to that honor, and remains, to date, an active and prolific writer.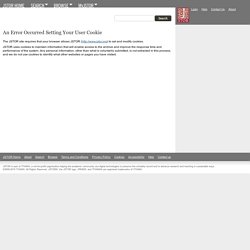 The JSTOR site requires that your browser allows JSTOR (http://www.jstor.org) to set and modify cookies.
One Hundred Years of Solitude
A los idiotas nunca les gusta Hemingway, por Juan Gabriel Vásquez
Como quizás lo sabrán ustedes, el pasado 2 de julio se cumplieron 50 años del día en que Hemingway bajó al sótano de su casa, agarró una escopeta Boss de dos cañones y una caja de balas, volvió al salón, cargó la escopeta y apoyó la culata en el suelo y luego apoyó la frente en los cañones.