Grants
Deadlines and Requirements | Bush Foundation. Thank you for your interest in applying to the Bush Fellowship Program!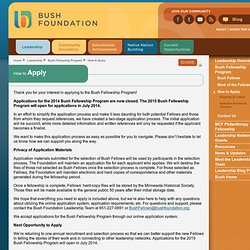 Applications for the 2014 Bush Fellowship Program are now closed. The 2015 Bush Fellowship Program will open for applications in July 2014. In an effort to simplify the application process and make it less daunting for both potential Fellows and those from whom they request references, we have created a two-stage application process.
The initial application will be succinct, while more detailed information and written references will only be requested if the applicant becomes a finalist. We want to make this application process as easy as possible for you to navigate. Funding Sources for Literary Artists. Crystal Spirit Publishing's Spirit of Writing Grant The purpose of the Spirit of Writing Grant Program is to provide funding for projects that assist individuals with furthering their desire and ability to write, perform, or publish.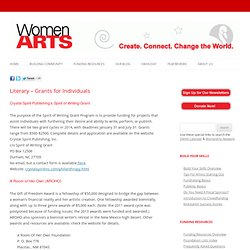 There will be two grant cycles in 2014, with deadlines January 31 and July 31. Grants range from $500-$2500. Complete details and application are available on the website. Crystal Spirit Publishing, Inc. c/o Spirit of Writing Grant PO Box 12506 Durham, NC 27709 No email, but a contact form is available here. FundsforWriters. 19 Grants for Writers and Other Creative Types. Find Writing Contests, Poetry Contests & Grants.
---