WU
WU Blog. WU Alumni Club. ..:: WU ZBP Career Center ::.. Career Calling 10 > Österreichs größte Karrieremesse. Home WU. Community of European Management Schools and International Compa. Open to a selected group of only 80 students from all over the world, the Master in International Management/ CEMS combines two degrees – WU's Master in International Management (MSc) and the CEMS MIM (Master in International Management) offered by CEMS (The Global Alliance in Management Education) – into one 24-month program.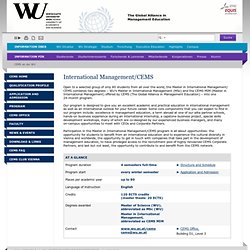 Our program is designed to give you an excellent academic and practical education in international management as well as an international outlook for your future career. Some core components that you can expect to find in our program include: excellence in management education, a term abroad at one of our elite partner schools, hands-on business experience during an international internship, a capstone business project, special skills development workshops, many of which are co-designed by our experienced business managers, and many on-campus opportunities to meet with CEOs and Corporate Partners. RZB Sprachlernzentrum. Raiffeisen Sprachlernzentrum Mo-Fr. 8-21 UhrSa. 10-17 UhrVorlesungsfreie Tage/Ferienzeiten:Mo-Fr von 9-17 Uhr geöffnet.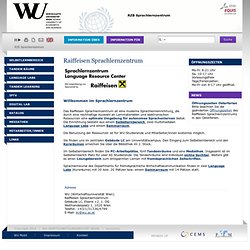 Öffnungszeiten OsterferienBitte beachten Sie die geänderten Öffnungszeiten des Raiffeisen Sprachlernzentrums in den Osterferien. Willkommen im Sprachlernzentrum Das Raiffeisen Sprachlernzentrum ist eine moderne Sprachlerneinrichtung, die durch eine reichhaltige Auswahl an Lernmaterialien und elektronischen Ressourcen eine optimale Umgebung für autonomes Sprachenlernen bietet.
---