The Bubble Machine
Get flash to fully experience Pearltrees
L'offre et la demande y sont évidemment pour quelque chose, mais la hausse des prix des denrées alimentaires constatée à travers le monde a une raison plus profonde: la gourmandise de Wall Street.
Depuis la parution de cet article, Goldman Sachs a publié ses résultats : ils sont meilleurs que jamais. Et les bonus sont en augmentation. Ces dernières nouvelles sont une parfaite confirmation de l'enquête de Matt Taibbi.
Yesterday we had the Cleveland Fed posting videos complete with the Ben Bernanke doodles of 3 year olds explaining how the Fed should (but does not) work.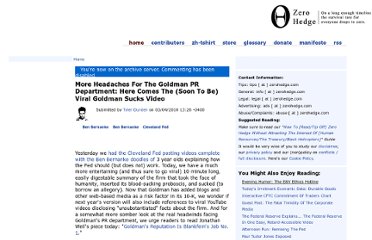 Je deviens incroyablement désabusé par toutes ces histoires. http://cdixon.org/2010/03/27/capitalism-just-like-adam-smith-pictured-it/ (énorme star ds le monde des start-ups)le résume mieux que moi. Y a un bon et un mauvais capitalisme et c'est déprimant de voir celui qui prévaut... by PED Apr 2