Science
A New Biology for a New Century -- Woese 68 (2): 173 -- Microbiology and Molecular Biology Reviews. Carl R.
Woese * + Author Affiliations Biology today is at a crossroads. The molecular paradigm, which so successfully guided the discipline throughout most of the 20th century, is no longer a reliable guide. La nouvelle Biologie pour le nouveau siècle. (voire pour le nouveau millénaire…) Il y a 4 ans, Carl Woese,célèbre microbiologiste, publiait un papier de réflexion sur l'avenir de sa science, la biologie.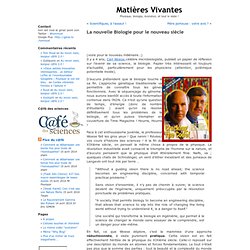 Papier très intéressant et toujours d'actualité, particulièrement pour les physiciens (attention, polémique potentielle inside). D'aucuns prétendent que la biologie touche à sa fin. Promenade dans le monde quantique | Les Ernest. Apple engineer uses Lego to rebuild ancient Greek mechanism, will surely try to patent it (video) The Antikythera Mechanism is what you call truly old school technology.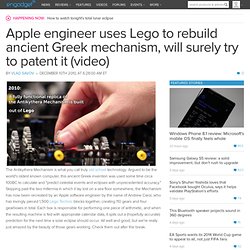 Argued to be the world's oldest known computer, this ancient Greek invention was used some time circa 100BC to calculate and "predict celestial events and eclipses with unprecedented accuracy. " Skipping past the two millennia in which it lay lost on a sea floor somewhere, the Mechanism has now been recreated by an Apple software engineer by the name of Andrew Carol, who has lovingly pieced 1,500 Lego Technic blocks together, creating 110 gears and four gearboxes in total.
Each box is responsible for performing one piece of arithmetic, and when the resulting machine is fed with appropriate calendar data, it spits out a (hopefully accurate) prediction for the next time a solar eclipse should occur. Scale of Universe - Interactive Scale of the Universe Tool. Actualité de Karl Popper: "une vérité n'est scientifique que si. "Ce qu'on n'a jamais mis en question n'a point été prouvé.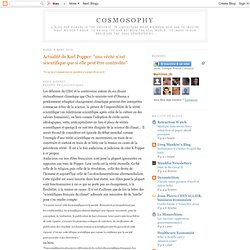 " Les déboires du GIEC et la controverse autour du soi disant réchauffement climatique que Chu le ministre vert d'Obama a prudemment rebaptisé changement climatique peuvent être interprétés comme un échec de la science, la preuve de l'impossibilité de la vérité scientifique (un relativisme scientifique après celui de la culture ou des valeurs humaines), ou bien comme l'adoption de credo variés idéologiques, verts, anticapitalistes en lieu et place de vérités scientifiques et quoiqu'il en soit très éloignés de la science du climat...
Il serait fécond de considérer cet épisode du débat mondial comme l'exemple d'une vérité scientifique en mouvement, en train de se construire et surtout en train de se bâtir sur la remise en cause de la précédente vérité. Accept Defeat: The Neuroscience of Screwing Up | Magazine. Illustration: Cristiana Couceiro, Scientis: Getty Images How To Fail Screw ups, disasters, misfires, flops.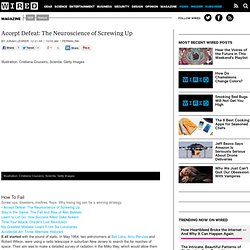 Why losing big can be a winning strategy. It all started with the sound of static. Comment Twitter a changé la science. Souvenez-vous, c'était il y a six mois, fin novembre 2010.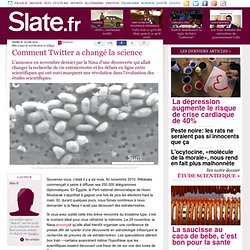 Wikileaks commençait à peine à diffuser ses 250.000 télégrammes diplomatiques. En Égypte, le Parti national démocratique de Hosni Moubarak s'apprêtait à gagner une fois de plus les élections haut la main. Et, durant quelques jours, nous fûmes nombreux à nous demander si la Nasa n'avait pas découvert des extraterrestres. Si vous avez oublié cette très brève rencontre du troisième type, c'est le moment idéal pour vous rafraîchir la mémoire. Le 29 novembre, la Nasa annonçait qu'elle allait bientôt organiser une conférence de presse afin de «parler d'une découverte en astrobiologie influençant la recherche de preuves de vie extraterrestre».
---