Regulation
Lesrapports.ladocumentationfrancaise.fr/BRP/104000098/0000.pdf. SEC mulls ways to shed light on dark pools. SEC Now Targetting Dark Pools, Indications Of Interests. Zero Hedge has been the subject of much (welcome) ridicule both retail and institutional , for continuing the barrage of Indication Of Interest screens (also: IOIA tag ) and information for the benefit of our readers, which I have been showing consistently over the past month, ever since I had a feeling there is something peculiar in the advertised trade flow pipes.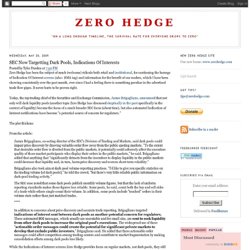 It never hurts to be proven right. Today, the top trading chief of the Securities and Exchange Commission, James Brigagliano, announced that not only will dark liquidity pools (another topic Zero Hedge has discussed skeptically in the past specifically in the context of liquidity) become the focus of a much broader SEC focus (about time), but also automated Indication of Interest notifications have become "a potential source of concern for regulators.
" Dark Pool Trade Limit Said to Be Cut 95% in SEC Plan (Update3) - SEC headquarters in Washington Oct. 20 (Bloomberg) -- The U.S.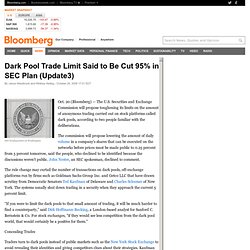 Securities and Exchange Commission will propose toughening its limits on the amount of anonymous trading carried out on stock platforms called dark pools, according to two people familiar with the deliberations. The commission will propose lowering the amount of daily volume in a company's shares that can be executed on the networks before prices must be made public to 0.25 percent from 5 percent tomorrow, said the people, who declined to be identified because the discussions weren't public. SEC votes for Dark Pool regulation. Perhaps the danger that the public will completely lose faith in the financial system is spurring a modest push for reforms.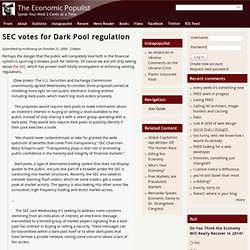 Of course we are still only talking about the SEC, which has proven itself totally incompetent at enforcing existing regulations. (Dow Jones)--The U.S. Securities and Exchange Commission unanimously agreed Wednesday to consider three proposals aimed at shedding more light on non-public electronic trading entities including dark pools, which match big stock orders privately. The proposals would require dark pools to make information about an investor's interest in buying or selling a stock available to the public instead of only sharing it with a select group operating with a dark pool. Morgan Stanley (NYSE:MS): SEC Dark Pool Regulation "Too Granular. In a letter to the Securities and Exchange Commission, Morgan Stanley (NYSE:MS) said the SEC needed to reconsider their regulatory proposal, saying it was too "granular."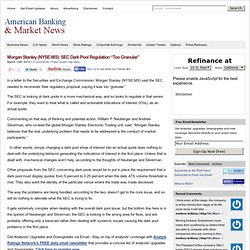 The SEC is looking at dark pools in a more mechanical way, and so looks to regulate in that sense. For example, they want to treat what is called and actionable indications of interest (IOIs), as an actual quote. Commenting on that way of thinking and potential action, William P. Neuberger and Andrew Silverman, who co-lead the global Morgan Stanley Electronic Trading unit, said, "Morgan Stanley believes that the real, underlying problem that needs to be addressed is the conduct of market participants." With Dark Pool Regulation, Be Careful What You Wish For. Traders Magazine Online News, November 16, 2009 Stephen J Nelson; The Nelson Law Firm, LLC On Oct. 21, the SEC voted unanimously to propose regulations that would increase the transparency of dark pools.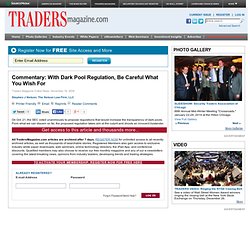 From what we can discern so far, the proposed regulation takes aim at the culprit and shoots an innocent bystander. All TradersMagazine.com articles are archived after 7 days. Early Thoughts On SEC Dark Pool Regulation by Advanced Trading. On Wednesday, October 21st, the Securities and Exchange Commission (SEC) held an open meeting in Washington, DC to address what it perceives as a growing lack of market transparency with respect to non-displayed venues and the emergence of a "two-tiered" market structure in which in which the public is deprived of information and denied access to liquidity available to institutional traders. At that meeting, the SEC put forth a series of proposals it believes will enhance transparency, reduce asymmetries, and enhance public confidence in the equity markets. More on CESR's Dark Pool Reg. I recently wrote a little piece about CESR, the EU Securities Regulator, and their update to Dark Pools regulations.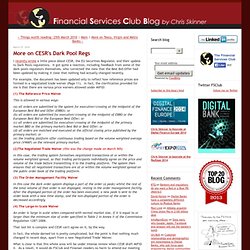 It got quite a reaction, including feedback from some of the dark pools regulators themselves, who 'corrected' the view that the Best Bid-Offer had been updated by making it clear that nothing had actually changed recently. For example, the document has been updated only to reflect how reference prices are formed in a negotiated trade waiver (Page 11). In fact, the clarification provided for me is that there are various price waivers allowed under MiFID: (1) The Reference Price Waiver This is allowed in various ways: Eloge du monopole boursier - MARCHE MONETAIRE BOURSE.
---