Others (corporate culture, CEO...)
Goldman Sachs. The Goldman Sachs Group, Inc. is an American multinational investment banking firm that engages in global investment banking, securities, investment management, and other financial services primarily with institutional clients.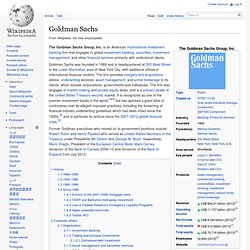 Goldman Sachs was founded in 1869 and is headquartered at 200 West Street in the Lower Manhattan area of New York City, with additional offices in international financial centers. The firm provides mergers and acquisitions advice, underwriting services, asset management, and prime brokerage to its clients, which include corporations, governments and individuals. The firm also engages in market making and private equity deals, and is a primary dealer in the United States Treasury security market. Environmental policy. New pearl. Goldman Sachs. GS Capital Partners. Culture @ Goldman Sachs. Goldman Sachs CEO interview. Lloyd C.
Blankfein, chief executive of one of the most wildly profitable financial firms in the world, rifles through his trash searching for a thank-you note. He has a point to make. Yes, his firm, Goldman Sachs, wasn't chosen to underwrite the Blackstone Group's planned initial public offering, but there are plenty of other Goldman clients grateful for the firm's services and Blankfein is going to find the note that proves it. Even though Goldman is the most imitated, envied and at times griped-about investment bank around, Blankfein -- who has just celebrated his first year at the helm and who happens to be smart, confident and very capable -- is still intent on proving himself and his firm to the world.
Goldman Sachs Information, Comments, Opinions and Facts. New pearl. Lloyd C.
Blankfein is probably one of the few vice-chairmen on Wall Street who wears a pager to monitor real-time currency and commodity prices. He still walks the trading floors -- and chats late into the night over his BlackBerry with employees about the global markets. "Sometimes, I make the mistake of going to bed at 2 a.m. and wake up at 4:30 a.m. and there will be 17 messages from him," says Gary Cohn, co-head of fixed income, currency, and commodities at Goldman, Sachs & Co. (GS). That drive and attention to detail enabled Blankfein, the son of a Brooklyn postal worker, to become the first in his family to go to college.
In Goldman Sachs We Trust. For reading on our trip, we chose Galbraith's commentary on the Great Crash of 1929 quoted above.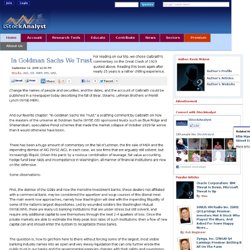 Reading this book again after nearly 25 years is a rather chilling experience. Change the names of people and securities, and the dates, and the account of Galbraith could be published in a newspaper today describing the fall of Bear, Stearns, Lehman Brothers or Merrill Lynch (NYSE:MER). And our favorite chapter: "In Goldman Sachs We Trust," a scathing comment by Galbraith on how the masters of the universe at Goldman Sachs (NYSE:GS) sponsored trusts such as Blue Ridge and Shenandoah, speculative Ponzi schemes that made the market collapse of October 1929 far worse than it would otherwise have been.
There has been a huge amount of commentary on the fall of Lehman, the fire sale of MER and the impending demise of AIG (NYSE:AIG). In each case, we see firms that are arguably still solvent, but increasingly illiquid. Goldman Sachs, 1929 and 2009. In Goldman Sachs We Trust: The Story of a $222 Stock going to $ As we look over the masters of the universe on Wall Street with Bear Stearns, Lehman Brothers, Merrill Lynch, Morgan Stanley, and Goldman Sachs only two remain standing and no longer in their previous form.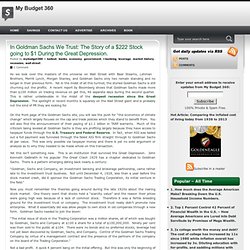 Yet in the midst of all this turmoil, the storied Goldman Sachs is still churning out the profits. A recent report by Bloomberg shows that Goldman Sachs made more than $100 million on trading revenue on get this, 46 separate days during the second quarter. This is rather unbelievable in the midst of the deepest recession since the Great Depression. BoHEC.jpg (Image JPEG, 380x380 pixels) Goldman Sachs seeks Goldman sucks site suit. High performance access to file storage Goldman Sachs certainly has its share of troubles these days but it's not about give up the little things that make life sweet.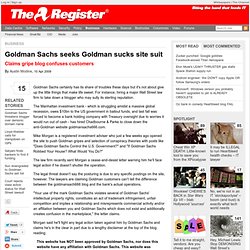 For instance, hiring a major Wall Street law firm to take down a blogger who may sully its sterling reputation. The Manhattan investment bank - which is struggling amidst a massive global recession, owes $10bn to the US government in bailout funds, and last fall was forced to become a bank holding company with Treasury oversight due to worries it would run out of cash - has hired Chadbourne & Parke to close down the anti-Goldman website goldmansachs666.com. Mike Morgan is a registered investment adviser who just a few weeks ago opened the site to push Goldman gripes and selection of conspiracy theories with posts like "Does Goldman Sachs Control the U.S. Government? " Lloyd Blankfein, le vendeur d'élite de Goldman - BANQUE GOLDMAN. Goldman Sachs: Don't Blame Us. The bankers at Goldman Sachs (GS), by traditional measures, ought to be on top of the world.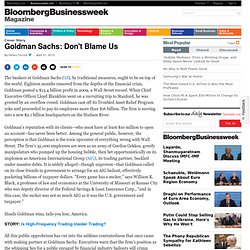 Eighteen months removed from the depths of the financial crisis, Goldman posted a $13.4 billion profit in 2009, a Wall Street record. When Chief Executive Officer Lloyd Blankfein went on a recruiting trip to Stanford, he was greeted by an overflow crowd. Goldman cast off its Troubled Asset Relief Program yoke and proceeded to pay its employees more than $16 billion. The firm is moving into a new $2.1 billion headquarters on the Hudson River. EU Sues Goldman Over Volcanic Ash Fallout | zero hedge. BRUSSELS—European Commission President Jose Manuel Barroso announced late Sunday that the European Union has filed suit against investment banking giant Goldman Sachs for the fallout of ash from Iceland's Eyjafjallajökull volcano.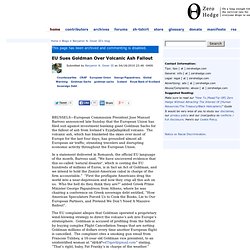 The volcanic ash, which has blanketed the skies over most of Europe for the last four days, has grounded almost all European air traffic, stranding travelers and disrupting economic activity throughout the European Union. In a statement delivered in Romansh, the official EU language of the month, Barroso said, "We have uncovered evidence that this so-called 'natural disaster', which is costing the EU hundreds of millions of Euros, is in fact an Act of Goldman, and we intend to hold the Zionist-American cabal in charge of the firm accountable." Europe 1 a-t-elle oublié que sur Internet la radio c'est aussi d. Il est difficile de décrire le malaise qui nous empare au visionnage de cette interview de Yoel Zaoui, le patron de la banque Goldman Sachs pour l'Europe, repérée par Marianne.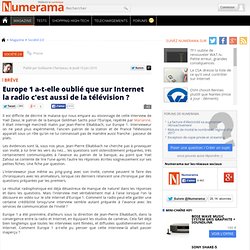 Il était interrogé mercredi matin par Jean-Pierre Elkabbach, sur Europe 1. Intervieweur on ne peut plus expérimenté, l'ancien patron de la station et de France Télévisions apparaît sous un rôle qu'on ne lui connaissait pas de manière aussi franche : passeur de plats. Les évidences sont là, sous nos yeux. Jean-Pierre Elkabbach ne cherche pas à provoquer son invité, à lui tirer les vers du nez... les questions sont ostensiblement préparées, très certainement communiquées à l'avance au patron de la banque, au point que Yoel Zahoui se contente de lire l'une après l'autre les réponses écrites soigneusement sur ses petites fiches.
Une fiche par question. L'interview de Jean-Pierre Elkabbach : "Le procès injuste des ag. Vous pouvez vous abonner au téléchargement périodique d'un fichier audio ou vidéo.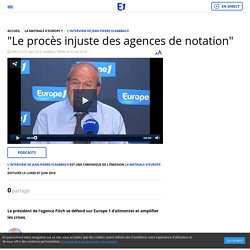 Vous pouvez conserver l'émission ainsi téléchargée sur votre ordinateur, l'emporter sur votre baladeur numérique ou la graver sur cd. Si vous choisissez iTunes, cliquez simplement sur le lien suivant, le logiciel iTunes prend en charge toutes les opérations d'abonnement. > s'abonner avec iTunes Si vous optez pour un autre logiciel, copier-coller le lien suivant dans votre logiciel et suivez les indications de celui-ci pour procéder à l'abonnement.
---