Langues
Methode Assimil
Spanish Dictionaries There are two free Spanish-English dictionaries: our very own dictionary and one from Collins. Each has its own strengths. Combined, they are unbeatable. French and Italian Dictionaries WordReference has two of its own dictionaries plus those of Collins.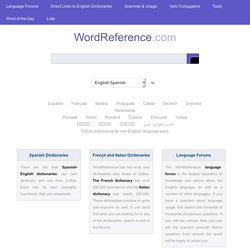 English to French, Italian, German & Spanish Dictionary - WordRe
Reverso : online translation, free automatic translation, dictio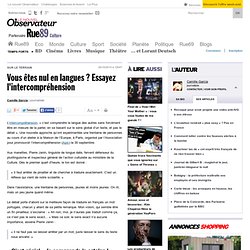 L'intercompréhension, « c'est comprendre la langue des autres sans forcément être en mesure de la parler, en se basant sur le sens global d'un texte, et pas le détail ». Une nouvelle approche qu'ont expérimentée une trentaine de personnes au cours d'un atelier à la Maison de l'Europe, à Paris, organisé par l'Association pour promouvoir l'intercompréhension (Apic) le 30 septembre. Aux manettes, Pierre Janin, linguiste de longue date, fervent défenseur du plurilinguisme et inspecteur général de l'action culturelle au ministère de la Culture. Dès le premier quart d'heure, le ton est donné : « Il faut arrêter de pinailler et de chercher à traduire exactement.
Vous êtes nul en langues ? Essayez l'intercompréhension