Selection officielle Cannes 2009
OUVERTURE : UP de PIXAR. Pedro ALMODÓVAR LOS ABRAZOS ROTOS. Andrea ARNOLD FISH TANK. Jacques Audiard Un Prophete. Condamné à six ans de prison, Malik El Djebena, ne sait ni lire, ni écrire.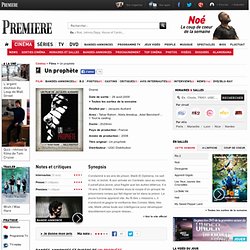 À son arrivée en Centrale, seul au monde, il paraît plus jeune, plus fragile que les autres détenus. Il a 19 ans. D'emblée, il tombe sous la coupe d'un groupe de prisonniers corses qui fait régner sa loi dans la prison. Le jeune homme apprend vite. Marco BELLOCCHIO VINCERE. Jane CAMPION BRIGHT STAR. Isabel COIXET MAP OF THE SOUNDS OF TOKYO. Xavier GIANNOLI A L'ORIGINE. Michael HANEKE DAS WEISSE BAND. Ang LEE TAKING WOODSTOCK. BEIJING, April 23 -- Ang Lee's new film, "Taking Woodstock," is high on the media's shortlist for the top gong at this year's Cannes Film Festival.
The jury panel will announce the final lineup for Cannes' main competitions - including such major honors as Best Picture and Best Director - on Wednesday, French local time. Ang Lee has not yet confirmed any nomination for his film, a second homosexual-themed picture following his Oscar-winning success, "Brokeback Mountain" in 2005. Lee's Woodstock film is based on the book, "Taking Woodstock: A True Story of a Riot, a Concert, and a Life" - a memoir by Elliot Tiber, the man who enabled the Woodstock music festival to take place in 1969. The three-day Woodstock event not only changed Tiber's life, but became a turning point in American culture. Ken LOACH LOOKING FOR ERIC. LOU Ye CHUN FENG CHEN ZUI DE YE WAN. Brillante MENDOZA KINATAY.
Gaspar NOE ENTER THE VOID. PARK Chan-Wook BAK-JWI. Alain RESNAIS LES HERBES FOLLES. Elia SULEIMAN THE TIME THAT REMAINS. Quentin TARANTINO INGLOURIOUS BASTERDS. Johnnie TO VENGEANCE. TSAI Ming-liang VISAGE. Lars VON TRIER ANTICHRIST. CLOTURE Jan KOUNEN COCO CHANEL & IGOR STRAVINSKY. A suivre...
---