Productivité
AutoHotkey. Capture .NET. Be Punctual 3.0. Be Punctual is a simple tool which includes Alarm Clock, Reminder and Human voice time teller(Both male and female).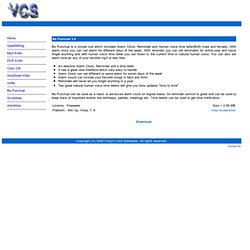 With alarm clock you can set alarm for different days of the week, With reminder you can set reminders for entire year and never forget anything and with human voice time teller you can listen to the current time in natural human voice. You can also set alarm tone as any of your favorite mp3 or wav files. Be Punctual can be used as a basic or advanced alarm clock on regular basis.
Its reminder service is great and can be used to keep track of important events like birthdays, parties, meetings etc. Time tellers can be used to get time notification. WatchMe. WatchMe is a feature-rich timer program that can be used to track time for a number of different tasks or events together or independently of one another.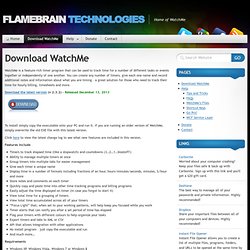 You can create any number of timers, give each one name and record additional notes and information about what you are timing – a great solution for those who need to track their time for hourly billing, timesheets and more. Download the latest version (v 2.3.2) – Released December 13, 2013 To install simply copy the executable onto your PC and run it. If you are running an older version of WatchMe, simply overwrite the old EXE file with this latest version. GCstar. Current version Current version is 1.7.0.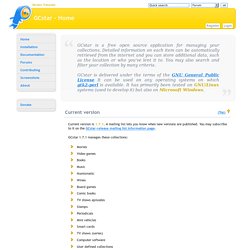 A mailing list lets you know when new versions are published. You may subscribe to it on the GCstar-release mailing list information page. Freeplane. Free mind mapping and knowledge management software Download Freeplane now!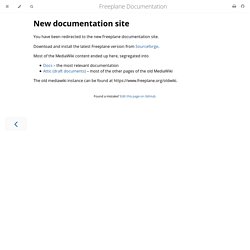 (this downloads the stable version 1.2.23) To Do Enhanced. ToDoList. Downloads Latest Executable + Plugins (6.8.10) - 2.1 MB (Includes all associated resources)Application Source (6.8.10) - 3.1 MB (Includes all plugins - compiles under VC6-VS2008) 3rd Party Note: Please contact the respective authors directly with comments and questions iTDL - for iPhone, iPad, iPod Touch Tdl Todo List - for Android.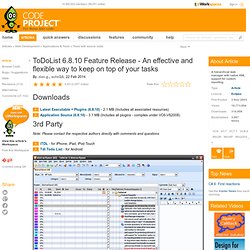 AbstractSpoon Software. Task Coach.
---