Portal (2007)
Portal™ is a new single player game from Valve. Set in the mysterious Aperture Science Laboratories, Portal has been called one of the most innovative new games on the horizon and will offer gamers hours of unique gameplay. The game is designed to change the way players approach, manipulate, and surmise the possibilities in a given environment; similar to how Half-Life® 2's Gravity Gun innovated new ways to leverage an object in any given situation.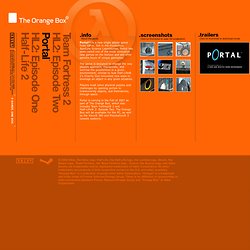 Page officielle (The Orange Box)
Wikia
"Now you're thinking with portals." ―GLaDOS during the Portal trailer Plot The plot of Portal is revealed to the player via audio messages from GLaDOS and side rooms found in the later levels. The game begins with protagonist Chell waking up from a stasis bed and getting instructions and warnings from GLaDOS about the upcoming test chamber experience.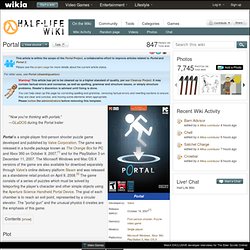 StrategyWiki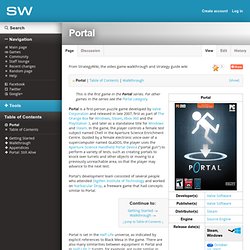 This is the first game in the Portal series. For other games in the series see the Portal category.
Un article de Wikipédia, l'encyclopédie libre.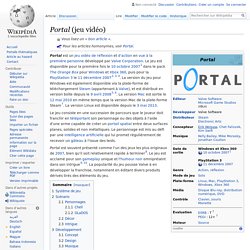 Wikipédia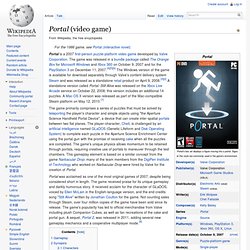 Portal was acclaimed as one of the most original games of 2007, despite being considered short in length. The game received praise for its unique gameplay and darkly humorous story.
Fiche Gamekult
Fiche Jeuxvideo
Portal for PC
Fiche GameRankings
Fiche Metacritic
Fiche Steam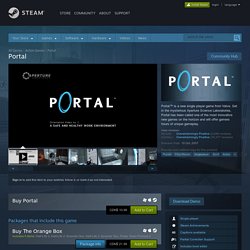 Portal is a first person action game of logic and strategy developed by Valve in 2007 and released in a package called The Orange Box .
Succès
Global Achievements Lab Rat Acquire the fully powered Aperture Science Handheld Portal Device.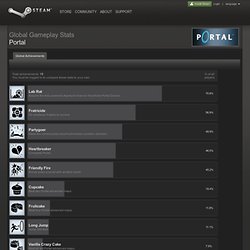 Forum
Hub
Groupe officiel