Mini Tower Defence (mTD)
Lost Garden (graphismes)
How do we get players to play together in a manner that fits their schedules? This is a key logistical challenge a designer faces when building multiplayer games. The promise We are seeing a blossoming of innovative multiplayer systems. In previous eras there were a handful of default models that games might use (matches, play-by-mail). Games today exist on a spectrum from fully concurrent to fully asynchronous and everything in between.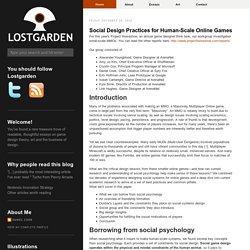 Zuper Games (développeurs)
Jouez sur MochiGames
Jouez sur Armor Games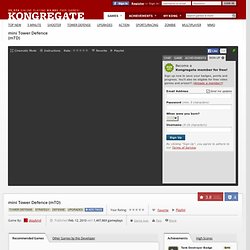 Jouez sur Kongregate
Check your security settings Connection issues are typically caused by security settings on your network or computer. Check that your firewall or router has port 5222 open and allowing traffic. If you are on a school or office network, you may need to contact your network administrator to make the necessary changes. Is your version of Flash current? Some old versions of Flash don't work well with our new chat application. You can go to http://get.adobe.com/flashplayer/ to get the newest version.