E-mail, messagerie...
New features Meet the new inbox New customizable tabs put you back in control so that you can see what's new at a glance and decide which emails you want to read and when. More about the new inbox Talk across devices Hangouts bring conversations to life with photos, emoji, and even group video calls for free.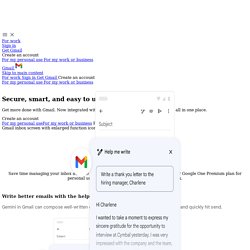 Orange
Le portail orange.fr propose différents services de gestion de données personnelles (messagerie, espace client...) pour lesquels il est nécessaire que vous soyez identifié. En fonction de l'identification utilisée (internet ou mobile) c'est l'univers correspondant qui vous sera proposé sur le portail orange.fr. Pour vous identifier sur orange.fr, saisissez votre adresse mail orange.fr ou wanadoo.fr ou votre numéro de mobile Orange. Si vous ne connaissez pas votre mot de passe ou si vous l'avez oublié, cliquez sur mot de passe oublié?
Outlook.com
GMX