Blog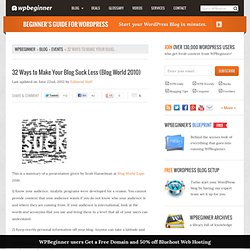 This is a summary of a presentation given by Scott Hanselman at Blog World Expo 2010. 1) Know your audience. Analytic programs were developed for a reason. You cannot provide content that your audience wants if you do not know who your audience is and where they are coming from.
32 Ways to Make Your Blog Suck Less (Blog World 2010)
presbymergent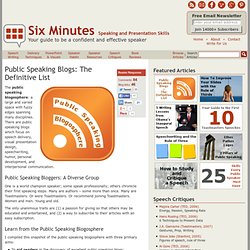 106 Public Speaking Blogs: The Public Speaking Blogosphere
The public speaking blogosphere : a large and varied space with fuzzy edges spanning many disciplines. There are public speaking blogs which focus on speech delivery, visual presentation design, speechwriting, humor, personal development, and interpersonal communication. One is a world champion speaker; some speak professionally; others chronicle their first speaking steps.