Cool
Hollywood poster generator
space invaders > the story of an invasion
Totally Sidetalkin' Nokia N-Gage Style!! SIDETALKING 2004-2005
nan mais oh !
Mode d'emploi : ces URLs d'images dynamiques sont des scripts en PHP avec en paramêtre la variable "texte", remplacez "Gniarf" par ce que vous voulez. Usage : copiez l'URL désirée OU enregistrez l'image obtenue et faites en ce que vous voulez. donc voilà : et puis ça aussi :
tiger mask, une vidéo de mounassam. tiger, mask
About Stealing These Buttons It all began on October 22, 2002 when Jeremy Hedley posted the the original offering of buttons. I, as many others, were infatuated with these for quite some time and begun collecting as many as I could. Eventually my website became the depository for all things STB.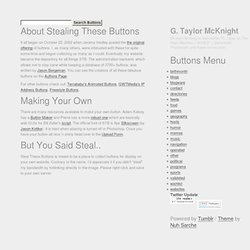 Taylor McKnight