Head Fi
Headfonia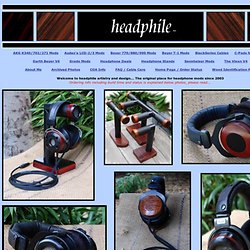 headphile... artistry & design... headphone tweaks and modding, woodies, interconnects, Grado, Sennheiser, AKG, Beyer, woody, darth beyer, terminator v4, grado vixen and more...
11th Year Modding (2003 to 2014) How Long Will an Order Take to Build and Ship... Purchases are built in order of payment received by me. At the time you place an order (with payment), you will go on my "build list". Build and shipping dates are determined (in order) by whomever has secured their spot. For an approximate shipping date for an order purchased today, see Current Build & Order Status (below).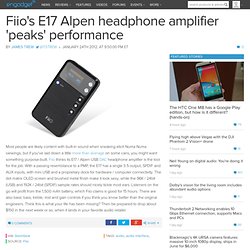 Most people are likely content with built-in sound when sneaking elicit Numa Numa viewings, but if you've laid down a little more than average on some cans, you might want something purpose-built. Fiio thinks its E17 / Alpen USB DAC headphone amplifier is the tool for the job. With a passing resemblance to a PMP, the E17 has a single 3.5 output, SPDIF and AUX inputs, with mini USB and a proprietary dock for hardware / computer connectivity. The dot matrix OLED screen and brushed metal finish make it look sexy, while the 96K / 24bit (USB) and 192K / 24bit (SPDIF) sample rates should nicely tickle most ears. Listeners on the go will profit from the 1,500 mAh battery, which Fiio claims is good for 15 hours. There are also basic bass, treble, mid and gain controls if you think you know better than the original engineers.
Fiio's E17 Alpen headphone amplifier 'peaks' performance