bancodetalentos
Maria Angélica
Get flash to fully experience Pearltrees
The term "curate" is the interactive world's new buzzword. During content creation and governance discussions, client pitches and creative brainstorms, I've watched this word gain traction at almost warp speed. As a transplant from museums and libraries into interactive media, I can't help but ask what is it about this word that deserves redefinition for the web? Curation has a distinguished history in cultural institutions. In galleries and museums, curators use judgment and a refined sense of style to select and arrange art to create a narrative, evoke a response, and communicate a message. As the digital landscape becomes increasingly complex, and as businesses become ever more comfortable using the web to bring their product and audience closer, the techniques and principles of museum curatorship can inform how we create online experiences—particularly when we approach content.
Like e-mail in the '90s and the web at the dawn of the new millennium, artists and organizations—as a matter of business—have had to adapt to these new modes of communication and integrate these tools into their operations.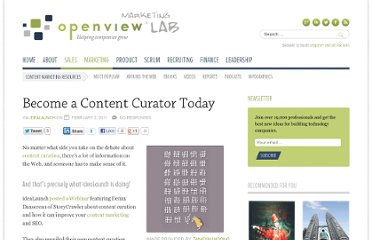 No matter what side you take on the debate about content curation , there's a lot of information on the Web, and someone has to make sense of it. And that's precisely what ideaLaunch is doing!
Curation: The Next Big Thing?
Posted by Tom Foremski - April 12, 2010
If you attended Les Affaires' social media conference, "Les Reseaux Sociaux Pour Une Implantation Concrete, Mesurable et Efficace" and did not have the opportunity to sit in on the seminar, "Contexte de B2B: Batissez Votre Strategie Afin D'Optimiser Votre Utilsation Des Reseaux Sociaux" then you missed out on some of the tools that will make a big difference in your strategic approach to social media. Do not worry.
Body Language and Conversation