WBC
"Oh, he's brilliant, very brilliant," Nate Phelps says, a conflicted look of begrudging admiration and utter contempt on the round moon of his face. He shakes his head. "He's got incredible capacity.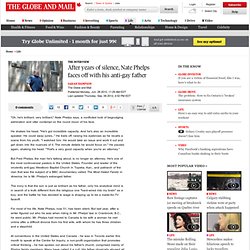 After years of silence, Nate Phelps faces off with his anti-gay father
80: Nathan Phelps – Irreligiosophy
The Westboro Baptist Church ( WBC ) is an American independent Baptist church known for its extreme ideologies, especially those against gay people . [ 2 ] [ 3 ] The church is widely described as a hate group [ 4 ] and is monitored as such by the Anti-Defamation League and Southern Poverty Law Center . It is headed by Fred Phelps and consists primarily of members of his large family; [ 5 ] in 2011, the church stated that it had about 40 members. [ 1 ] The church is headquartered in a residential neighborhood on the west side of Topeka about three miles (5 km) west of the Kansas State Capitol . Its first public service was held on the afternoon of November 27, 1955. [ 6 ]
Westboro Baptist Church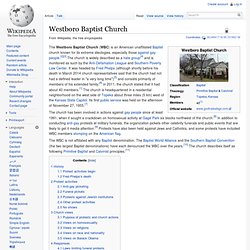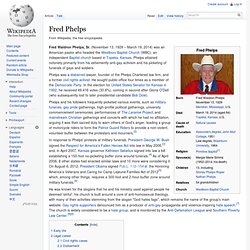 Fred Phelps
Fred Waldron Phelps, Sr. (born November 13, 1929) is an American pastor heading the Westboro Baptist Church (WBC), an independent Baptist church based in Topeka, Kansas . Phelps is a disbarred lawyer, founder of the Phelps Chartered law firm, and a former civil rights activist . A member of the Democratic Party , he has occasionally run for political office. In the election for United States Senator for Kansas in 1992 , he received 49,416 votes (30.8%) in the Democratic primary, coming in second after Gloria O'Dell (who subsequently lost to later presidential candidate Bob Dole ). Phelps's followers frequently picket various events, such as military funerals , gay pride gatherings, high-profile political gatherings, university commencement ceremonies, performances of The Laramie Project , mainstream Christian gatherings and concerts with which he had no affiliation, arguing it is their sacred duty to warn others of God's anger.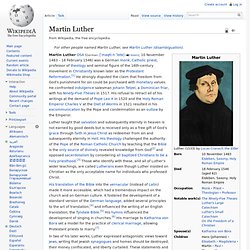 Martin Luther ( German: [ˈmaɐ̯tiːn ˈlʊtɐ] ( listen ) ; 10 November 1483 – 18 February 1546) was a German monk , former Catholic priest , professor of theology and seminal figure of a reform movement in sixteenth century Christianity , subsequently known as the Protestant Reformation . [ 1 ] He strongly disputed the claim that freedom from God's punishment for sin could be purchased with money. He confronted indulgence salesman Johann Tetzel with his Ninety-Five Theses in 1517.
Calvinism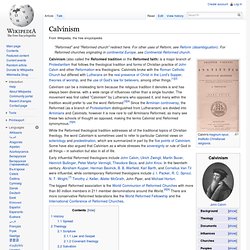 Calvinism (also called the Reformed tradition or the Reformed faith ) is a major branch of Western Christianity that follows the theological tradition and forms of Christian practice of John Calvin and other Reformation -era theologians. Calvinists broke with the Roman Catholic church but differed with Lutherans on the real presence of Christ in the Lord's supper , theories of worship , and the use of God's law for believers , among other things. [ 1 ] [ 2 ] Calvinism is a misleading term because the religious tradition it denotes is and has always been diverse, with a wide range of influences rather than a single founder.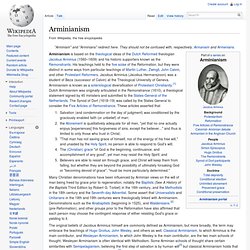 Arminianism is based on the theological ideas of the Dutch Reformed theologian Jacobus Arminius (1560–1609) and his historic supporters known as the Remonstrants . It is known as a soteriological sect of Protestant Christianity . [ 1 ] Dutch Arminianism was originally articulated in the Remonstrance (1610), a theological statement signed by 45 ministers and submitted to the States-General of the Netherlands . The Synod of Dort (1618–19) was called by the States General to consider the Five Articles of Remonstrance .
Arminianism
Bob Jones, Sr.
Robert Reynolds Jones, Sr. (October 30, 1883 – January 16, 1968) was an American evangelist , pioneer religious broadcaster and the founder and first president of Bob Jones University . [ edit ] Early years Bob Jones was the son of William Alexander and Georgia Creel Jones and the eleventh of twelve children. In 1883, when Bob was born, Alex Jones, a Confederate veteran, was working a small farm in Dale County , Alabama , but within months the family moved to Brannon Stand west of Dothan . All the unmarried Jones children helped work the farm there, and Bob Jones often sold the family vegetables door-to-door in Dothan.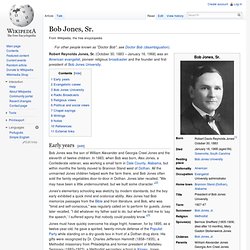 John Gill (theologian)
John Gill John Gill (23 November 1697 – 14 October 1771) was an English Baptist pastor, biblical scholar, and theologian who held to a firm Calvinistic soteriology . Born in Kettering , Northamptonshire , he attended Kettering Grammar School where he mastered the Latin classics and learned Greek by age 11. He continued self-study in everything from logic to Hebrew, his love for the latter remaining throughout his life. [ edit ] Early life and education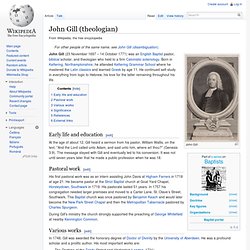 Jonathan Edwards (theologian)
Jonathan Edwards (October 5, 1703 – March 22, 1758) was a Christian preacher and theologian. Edwards "is widely acknowledged to be America's most important and original philosophical theologian," [ 3 ] and one of America's greatest intellectuals. [ 4 ] Edwards's theological work is broad in scope, but he was rooted in Reformed theology , the metaphysics of theological determinism, and the Puritan heritage. Recent studies have emphasized how thoroughly Edwards grounded his life's work on conceptions of beauty, harmony, and ethical fittingness, and how central The Enlightenment was to his mindset. Edwards played a critical role in shaping the First Great Awakening , and oversaw some of the first revivals in 1733–35 at his church in Northampton , Massachusetts . [ 6 ]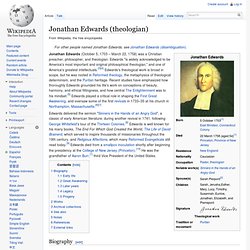 Patriot Guard Riders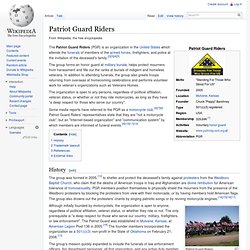 The Patriot Guard Riders (PGR) is a motorcycle club [ 2 ] [ 3 ] [ 4 ] [ 5 ] whose members attend the funerals of US armed forces members, firefighters, and police at the invitation of the deceased's family. [ 6 ] [ 7 ] [ 8 ] [ 9 ] Patriot Guard Riders' representatives state that they are not a chartered motorcycle club, but a group of individuals with an "unwavering respect for those who risk their lives for America's freedom and security". [ 10 ] [ 11 ] [ 12 ] [ 13 ] [ 14 ] [ 15 ] The group was formed in 2005, [ 16 ] to shelter and protect the deceased's family against protesters from the Westboro Baptist Church , who claim that the deaths of American troops in Iraq and Afghanistan are divine retribution for American tolerance of homosexuality . PGR members position themselves to physically shield the mourners from the presence of the Westboro protesters by blocking the protesters from view with their motorcade, or by having members hold American flags.
Home
The Westboro Baptist Church ( WBC ) is an American independent Baptist church known for its extreme ideologies, especially those against gay people . [ 2 ] [ 3 ] The church is widely described as a hate group [ 4 ] and is monitored as such by the Anti-Defamation League and Southern Poverty Law Center . It is headed by Fred Phelps and consists primarily of members of his large family; [ 5 ] in 2011, the church stated that it had about 40 members. [ 1 ] The church is headquartered in a residential neighborhood on the west side of Topeka about three miles (5 km) west of the Kansas State Capitol . Its first public service was held on the afternoon of November 27, 1955. [ 6 ]
God hates figs