Doctor Who
Doctor Who Cell Phone Alert Charms. Have Screwdriver Will Travel by ~emperial. Chameleon Circuit - An Awful Lot of Running. Print And Fold Dr. Who Icons And Characters : Daily source of DIY craft projects and inspiration, patterns, how-tos | Craftzine.com.
TARDIS Index File, the Doctor Who Wiki. Re)TARDIS Hat pattern by Jen Bruck. (re)TARDIS Hat « Rip It Good. Me in my (re)TARDIS hat.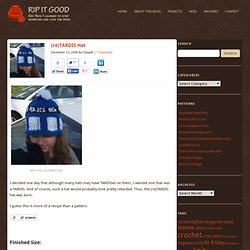 I decided one day that although many hats may have TARDISes on them, I wanted one that was a TARDIS. And of course, such a hat would probably look pretty retarded. Gingerbread K-9. Gingerbread Tardis. Doctor Who - TARDIS Desktop Wallpaper Gallery. Doctor Who - Features - Stories.
---