Mobile Fragmentation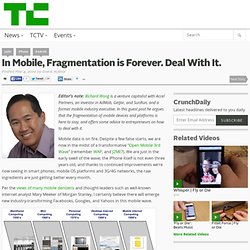 Editor's note: Richard Wong is a venture capitalist with Accel Partners, an investor in AdMob, GetJar, and SunRun, and a former mobile industry executive. In this guest post he argues that the fragmentation of mobile devices and platforms is here to stay, and offers some advice to entrepreneurs on how to deal with it. Mobile data is on fire. Despite a few false starts, we are now in the midst of a transformative "Open Mobile 3rd Wave" (remember WAP , and J2ME ?).
In Mobile, Fragmentation is Forever. Deal With It.
nb03-part5-Mobility.pdf (application/pdf Objeto)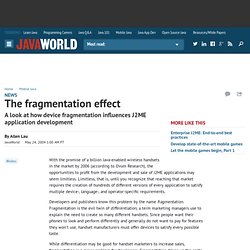 The fragmentation effect
A look at how device fragmentation influences J2ME application development By Allen Lau, JavaWorld.com, 05/24/04 With the promise of a billion Java-enabled wireless handsets in the market by 2006 (according to Ovum Research), the opportunities to profit from the development and sale of J2ME applications may seem limitless. Limitless, that is, until you recognize that reaching that market requires the creation of hundreds of different versions of every application to satisfy multiple device-, language-, and operator-specific requirements. Developers and publishers know this problem by the name fragmentation. Fragmentation is the evil twin of differentiation, a term marketing managers use to explain the need to create so many different handsets.
Mozilla Firefox