Workouts!
Brokenhearted Ab Challenge
POP Pilates: Crazy Core Workout
Hi BodyRockers, Today Freddy and I are starting to pack for our move and we are crazy busy. With everything that we have to do today, I didn't have time for a full workout, but don't worry because I put together this savage little 6 minute full body routine that will rock you out. I think that it is always better to do something than to skip your training completely, and this workout may come in a small package, but as you can see in the video, if you are pushing it at your max effort – full throttle – you won't have anything left after 6 minutes.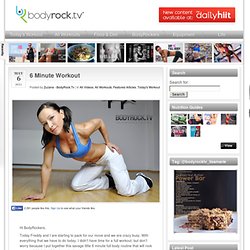 POP Pilates Inner Thigh Insanity