Health, Beauty & Fitness
Recipes
Newspaper nails. Okay, so we're only three weeks in to this whole thing and I'm already showing you a tame look after I totally promised some of you that I'd do a newsprint nail tutorial this week.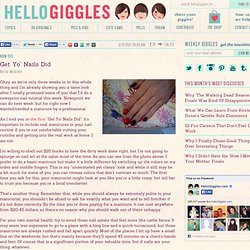 Newsprint we can do next week, but for right now I wanted/needed a manicure by a professional. As I told you in the first "Get Yo' Nails Did", it's important to include real manicures in your nail routine if you're not comfortable cutting your cuticles and getting into the real work at home.
DIY wrap bracelet. You should all know by now that we are all about stacking bracelets on our wrists.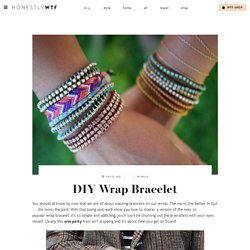 The more, the better. In fact . . . the most, the best! With that being said, we'll show you how to master a version of the ever so popular wrap bracelet. It's so simple and addicting, you'll soon be churning out these wristlets with your eyes closed. Fix broken powder cosmetics. By Sheila Arkee So, you have a favorite eyeshadow, pressed powder, or blush you absolutely cannot live without.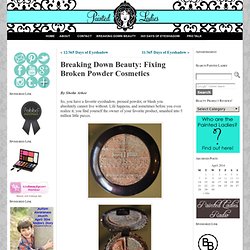 Life happens, and sometimes before you even realize it, you find yourself the owner of your favorite product, smashed into 5 million little pieces. When your powder cosmetics are broken into 5 million pieces, you can always put them in a small container and use as a loose shadow, but you DO have the option of fixing the products so it's almost as good as new. It's easy! I mean it! Breathe as one.
Do As One invites you to experience connection by breathing together synchronously with everyone currently logged into the UBR.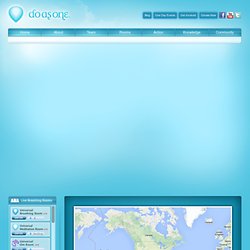 The map on this page shows you where everyone you are breathing with is located around the world in real time. At a pace of five breaths per minute, instill the power of conscious, deep breathing as you oxygenate your body, heighten awareness and increase your overall wellness. This room is where we envision having one billion people breathe together by November 11, 2012. Nails. Virtual makeover. Reusing household items. 1.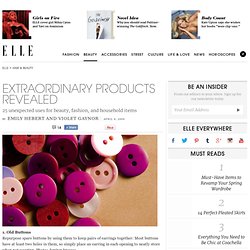 Old Buttons Repurpose spare buttons by using them to keep pairs of earrings together: Most buttons have at least two holes in them, so simply place an earring in each opening to neatly store when not wearing. Photo: Jupiter Images 2. How to: pore strips. You know those Biore pore strips you buy at the drugstore for about $12 a pop? Yeah, those. Today I'm going to teach you how to make your own homemade pore strips. Why? Because: How to tie a Scarf.
---