ARQUITECTURA
radarq.net es un estudio abierto que trabaja e investiga en arquitectura, red y ciudad Discúlpanos, pero estamos mejorando nuestra web principal. Mientras tanto seguimos… en tumblr.radarq.net! radarq.net is an open studio which works and researches in architecture, network and city Sorry, but we're improving our main website.
radarq.net | estudio abierto que trabaja e investiga sobre arquitectura, red y ciudad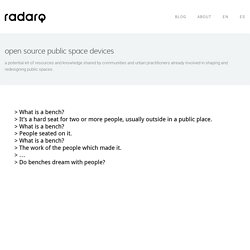 /////
Spatial Analysis
Centre for Advanced Spatial Analysis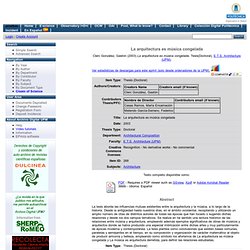 Clerc González, Gastón (2003) La arquitectura es música congelada. Tesis(Doctoral), E.T.S. Architecture (UPM). Ver estadisticas de descargas para este eprint (solo desde ordenadores de la UPM) Texto completo disponible como:
La arquitectura es música congelada - Archivo Digital UPM
Miércoles 2 de octubre de 2013, 17:00. Medialab-Prado (C/ Alameda, 15, Madrid) La tercera jornada de debate Holanda en Madrid se centra en analizar el papel de las instituciones, iniciativas y espacios culturales en la transformación de la ciudad actual, al hilo de las experiencias más novedosas, tanto holandesas como madrileñas.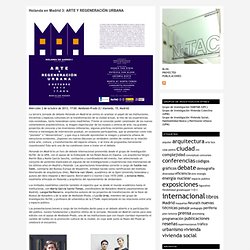 Nuevas Técnicas Arquitectura Ciudad: Grupo de investigación – Departamento de Proyectos – ETSAM
:: agenciacritica ::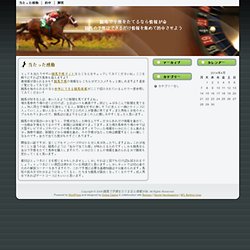 とっても当たりやすい競馬予想サイトならこちらをチェックしてみてくださいね。ここを頼りにすれば万馬券も狙えますよ! 裏情報が得られるかも!競馬予想の情報ならこちらがオススメ!もっと楽しめますよ!是非ご覧になってみては?
La proximidad del 2º aniversario del Movimiento Disfrutista invita a la producción de un nuevo manifiesto, El Segundo Manifiesto Disfrutista. El primer manifiesto disfrutista era un texto de 106.000 palabras cuya exposición pública se realizó en octubre de 2008 coincidiendo con el lanzamiento del Movimiento Disfrutista. El segundo manifiesto disfrutista pretende ser algo mucho más breve y mucho más participativo. Para una construcción multidireccional, se realiza una microacción copiapeguista original que se comunicará en un foro de divulgación y libre expresión cultural que es el Speaker's Corner del Centro de Arte Complutense de Madrid, el día 14 de julio de 2010 a las 18.00h., tres meses y medio antes del 2º aniversario del Movimiento Disfrutista.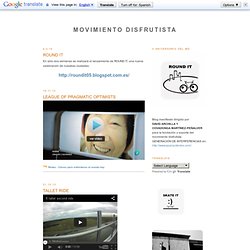 MOVIMIENTO DISFRUTISTA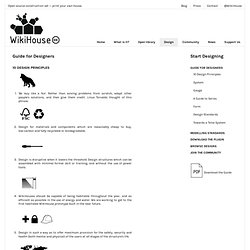 Guía para los diseñadores
Guide for Designers 'Be lazy like a fox'. Rather than solving problems from scratch, adapt other people's solutions, and then give them credit.
HAUGEN/ZOHAR
HAUGEN/ZOHAR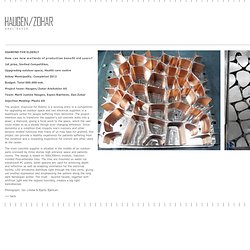 How can new methods of production benefit old users? 1st prize, Invited Competition, Uppgrading outdoor space, Health care centre Askøy Municipality, Completed 2012
AVATAR ARCHITETTURA
Projects | rosanbosch.com
Konzepp³³ | geoff tsui
Search results by chronology | www.olgga.fr
A Cabin in a Loft : Katz Chiao
A Cabin in a Loft in Brooklyn A Cabin in a Loft in Brooklyn is a two-bedroom loft in Bushwick, Brooklyn. The cabin is available for short-term rental as an alternative to hotels and hostels to those seeking a more local experience of New York. Conceived of as houses within houses, the cabin and treehouse serve as private sleeping cabins, each with its own semi-private garden set off from the shared living space.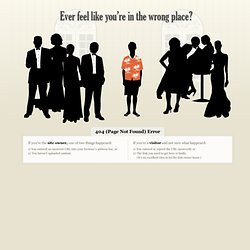 nr1977- | WHAT WE DO IS SECRET
Photo © Sadao Hotta This is a renovation of a 770 square feet apartment in Tokyo. Imagine a family of five living in such a small space – you need to be clever and imaginative, for sure. Click on each image for larger view. Photos © Sadao Hotta Who: Naoto Mitsumoto and Naoko Hamana /mihadesignWhat: Renovation of an apartmentWhere: TokyoWhen: November 2009Total Floor Area: 770 square feet (71.5m²)Renovation Area: 671 square feet (62.3m²) © mihadesign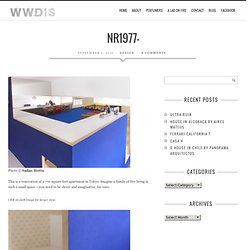 STUDIO 2A
www.heliodon.net/downloads/Beckers_2004_Ir_El_diagrama_solar.pdf
groundlab landscape urbanism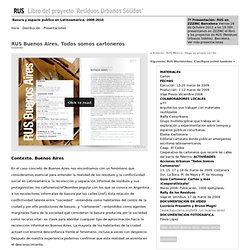 RUS Buenos Aires. Todos somos cartoneros « RUS
Contexto. Buenos Aires En el caso concreto de Buenos Aires nos encontramos con un fenómeno que consideramos esencial para entender la realidad de los residuos y la conflictividad social en Latinoamérica: la recolección y separación informal de residuos y sus protagonistas: los cartoneros[ref]Nombre popular con los que se conoce en Argentina a los recolectores informales de basura por las calles.[/ref].
For someone designingstorm water to minimize contaminants, the most important thing to track in your diagram is the level of contaminants. Above is a simple, bounded diagram of storm water with contaminants coming in.One possible start to designing a new system is to look at the 'clouds' outside your usual design of the infrastructure. In the wider world, how and why are things coming in to your system? Can you manipulate them somehow before they become inputs?
cyborg landscapes
J. MAYER H.     BUILDINGS.URBANISM     METROPOL PARASOL
Project Architect: Jürgen Mayer H., Andre Santer, Marta Ramírez Iglesias J. MAYER H. Project Team: Ana Alonso de la Varga, Jan-Christoph Stockebrand, Marcus Blum, Paul Angelier, Hans Schneider, Thorsten Blatter, Wilko Hoffmann, Claudia Marcinowski, Sebastian Finckh, Alessandra Raponi, Olivier Jacques, Nai Huei Wang, Dirk Blomeyer (Management Consultant 1st Phase) International Competition 2004, 1st Prize, Project: 2004-2011, Opening: March 2011, Completion: April 2011 Client: Ayuntamiento de Sevilla und SACYR With: ARUP GmbH NL Berlin/Madrid Technical Support for Plants – Competition 2nd Phase only: Coqui-Malachowska-Coqui with Thomas Waldau