Arquitectos
Nib.com::project DECOI .:. pallas house. GREG LYNN FORM. Folding space. SuckerPUNCH: describe your project. mikael HVIDTFELDT CHRISTENSEN (Syntopia): 'Folding Space' is an exploration of a class of 3D fractals, called Kaleidoscopic IFS's (first described in this thread at fractalforums.com).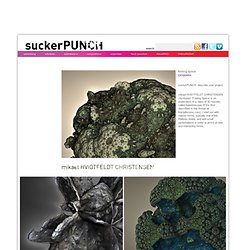 I start out with classic forms, typically one of the Platonic Solids, and add small perturbations in order to arrive at new and interesting forms. sP: what were you reading/listening to/watching while developing this project? HKPDA - Hong Kong Parametric Design Association. Passive House - Myriad Harbor. Passive House Vernacular Architecture Tropical Climate Modular Architecture, Off The Grid & Energy Analysis The Passive House [Taiwan] is a modern take on climate specific housing which draws on vernacular techniques from Taiwan.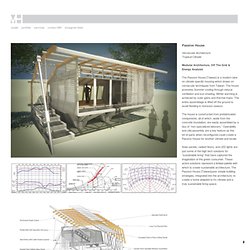 ELISA STROZYK. "Wooden Textiles" convey a new tactile experience.
We are used to experience wood as a hard material; we know the feeling of walking across wooden floors, to touch a wooden tabletop or to feel the bark of a tree. But we usually don't experience a wooden surface which can be manipulated by touch. Clubik. This project presents results of my recent researches in domain of generative constructions, that are 'bred' with use of artificial intelligence.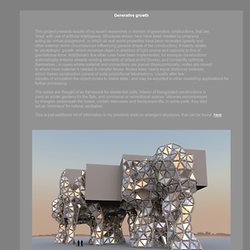 Structures shown here have been created by programs acting as 'virtual playground', in which all real world properties have been recreated (gravity and other external world circumstances influencing general shape of the construction). It mainly relates to 'phototropic' growth, which develops object in direction of light source and opposite to this of gravitational force. Additionally few other rules have been implemented, for example constructions automatically entwine already existing elements of virtual world (boxes), and constantly optimize themselves ; in cases where material and connections are placed disproportionally, nodes are moved to where more material is needed to transfer forces.
Nodes keep nearly equal distances between, which makes construction consist of quite proportional tetrahedrons. HAUGEN/ZOHAR. How can digital technology and waste be combined to create spaces of quality?
1st prize / Competition Client: Trondheim Municipality. Cave for kids by Haugen/Zohar Arkitekterat. 50 m3 and 1,5 tonnes of pre-industrial waste make a secret, spooky space, a playful cave for children.
Uruguayan writer Eduardo Galliano argues, ´Show me how you play and I will show who you are`. The games we play and don't play, how we play them and with whom, have become a central aspect of the modern world's popular cultures and their understanding of themselves. The domain of play, as even the most every day engagement with children brings out experimentation and creativity. It is a form of social interaction that insists upon collective rule making and changing, testing and mutual dependence, imagination, laughter and surprise. Norwegian Wild Reindeer Centre Pavilion by Snøhetta. The rippled timber core of this reindeer observation pavilion by architects Snøhetta mirrors the curves of the surrounding Dovre Mountains in Norway.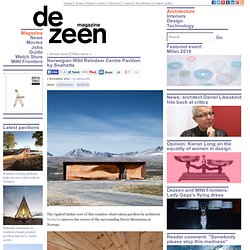 Above: photograph is by diephotodesigner Named the Norwegian Wild Reindeer Centre Pavilion, the building is used as an education centre by charity the Wild Reindeer Foundation. A rectangular steel frame contains the pavilion and a glazed wall lines the observation area. Norwegian ship-builders constructed the curved timber centre from pine beams, which were milled using digital models and then pegged together. Moh architects | news & information. Prof.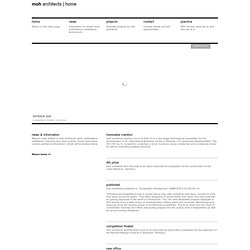 Neil Leach kindly invites moh architects to showcase some of our work. "AD:Digital Cities takes in exciting emerging practices, such as moh architects, kokkugia and THEVERYMANY, and work by students at some of the most progressive schools, such as the AA, Dessau Institute of Architecture and RMIT. What is the impact of digital technologies on the design and analysis of cities? For the last 15 years, the profound impact of computer-aided techniques on architecture has been well charted. Snohetta. Snøhetta shortlisted for the design of 10 new acres of parkland in San Francisco's Presidio The Presidio Trust, working with the Golden Gate National Parks Conservancy and the National Park Service, has invited five design firms to develop conceptual design and programming for 10 acres of new parkland that will be created in the Presidio atop a dramatic bluff with panoramic Golden Gate views.
The design opportunity came about as the result of the demolition of the 75-year-old freeway leading to the Golden Gate Bridge, which is being replaced by the Presidio Parkway, a new at-grade tunnel-covered roadway that will connect the two most expansive public spaces in the Presidio: the historic Main Post and the bay front at Crissy Field.
The project also includes three acres of newly designed parklands adjacent to the Crissy Field Center, including facilities and grounds for youth programs offered by the Trust, Conservancy, and National Park Service. Autolux - Myriad Harbor. Autolux Large Scale Retail Presented at AIA 10x10 competion Los Angeles, CA Autolux is a new concept in car sales and car display.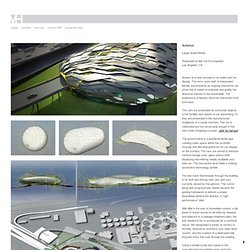 Tesselion : Adaptive Quadrilateral Flat Panelization. Markus Wikar. HAUGEN/ZOHAR. EZCT Architecture & Design Research. 2011 Archive - HHD_FUN. Osd - Ingenieurbauten - Messe und Event - Mobile Lichtkirche. Neubau eines mobilen Kirchenraums Bauherr: Evangelische Kirche Hessen und NassauArchitekten: raum-z Architekten, DarmstadtLeistung: TragwerksplanungLeistungsphasen: 1-6Gesamtfläche: 80 m² Fertigstellung 2009 Anerkennung Holzbaupreis Hessen 2011Link zur website der Lichtkirche. >>modulorbeat // ambitious urbanists & planers. Startmenu. Inverted shadow | gabi schillig. This architectural design proposal hypothesises that the second home, a holiday house, has turned into a simulation and staging of reality for the inhabitant who belongs to the category of the modern nomad.
During the architectural design process military strategies were adapted to invade maps and space on Lanzarote. The house emerges as a programmed landscape, a datascape that consists of different parts, active and inactive spatial fields, infrastructural data that is informed by the user and its movement through space. Peer produced space. LampSYSTEM. LampSYSTEM is a project that blends existing systems and computation to breed a new emergent one. LampSYSTEM from Joao Albuquerque on Vimeo. Reusing the "Bunch of Bulbs" lamp (by KiBiSi) principle, LampSYSTEM uses a V shaped plumbing intersection as the node for an L-System structure.This node is used in an recursive algorithm, testing self-intersection and area/direction to occupy as it grows 3-dimensionally.The outcome is a tree-like structure that grows and glows through a predefined direction, having as branch terminals light bulbs which illuminate the structure's inhabited space.
//back to main// Lalvani Studio | Sculpture, Architecture, Design, Morphogenomics. PANELIZE SURFACE – FORMFARM. LaN / LIVE ARCHITECTURE NETWORK. Galerie de Aranda\Lasch. Programming Architecture - Home. Peg office of landscape + architecture. New-territories. Kokkugia.
P i n u p s p a c e. MansWorks. Plethora Project. Boston center for the arts. Decode.
---