Arquitectos
nib.com::project DECOI .:. pallas house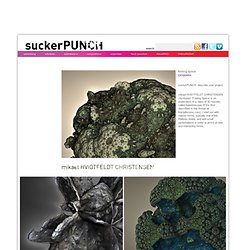 folding space
suckerPUNCH: describe your project.
HKPDA - Hong Kong Parametric Design Association
graft architects: frankfurt regionals
first image 'frankfurt regionals' for heinemann by graft at the frankfurt international airport, germany all images courtesy graft international design collective graft has created a display unit for the german brand heinemann's first duty free shop in frankfurt international airport. featuring a series of wooden layers that modulate in shape and size, the 40 m2 project loosely defines the space and circulation route of visitors. with the aim of providing a display scheme that is new and dynamic, the design utilizes the sculpturally stacked surfaces as 'shelves'. as shoppers walk around the structure, the form of the unit shifts and alters according to the vantage point. a sense of floatation is achieved by beveling down the base to a smaller area.
Passive House - Myriad Harbor
first image bird island project by graft architects all images courtesy graft architects international firm graft architects have sent in images of some of their latest projects. they designed their bird island project as part of the bird island green home competition held by the YTL group. located in sentul park, kuala lumpur, malaysia 'bird island' is an urban renewal development. for the project graft architects have designed a sustainable villa made with a silicone covered glass fabric. the skin twists and turns along the facade changing its transparency and guiding the view of the residents out to the landscape and views of the area. the tent structure reflects sunlight and prevents direct sunlight to heat the main structure. grey water fro sinks and showers will be able to be reused as part of the water drainage system they have incorporated.
bird island project by graft architects
ELISA STROZYK
"Wooden Textiles" convey a new tactile experience. We are used to experience wood as a hard material; we know the feeling of walking across wooden floors, to touch a wooden tabletop or to feel the bark of a tree. But we usually don't experience a wooden surface which can be manipulated by touch.
This project presents results of my recent researches in domain of generative constructions, that are 'bred' with use of artificial intelligence. Structures shown here have been created by programs acting as 'virtual playground', in which all real world properties have been recreated (gravity and other external world circumstances influencing general shape of the construction).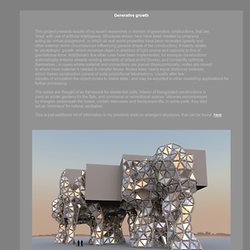 clubik
How can digital technology and waste be combined to create spaces of quality? Client: Trondheim Municipality Awards for Emerging Architects RIBA, London 2011
HAUGEN/ZOHAR
Cave for kids by Haugen/Zohar Arkitekterat
50 m3 and 1,5 tonnes of pre-industrial waste make a secret, spooky space, a playful cave for children.
Norwegian Wild Reindeer Centre Pavilion by Snøhetta
The rippled timber core of this reindeer observation pavilion by architects Snøhetta mirrors the curves of the surrounding Dovre Mountains in Norway.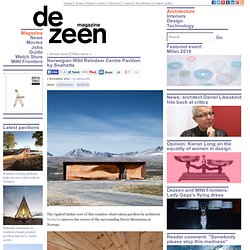 moh architects | news & information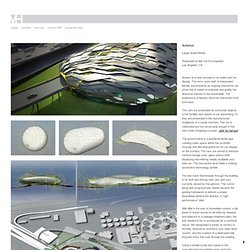 Autolux - Myriad Harbor
Autolux
Tesselion : Adaptive Quadrilateral Flat Panelization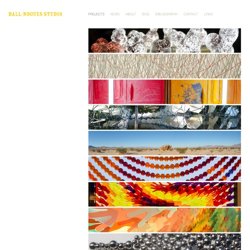 Studio
From the Museum of Modern Art Press Release:
Markus Wikar
HAUGEN/ZOHAR
EZCT Architecture & Design Research
2011 Archive - HHD_FUN
osd - Ingenieurbauten - Messe und Event - Mobile Lichtkirche
Neubau eines mobilen Kirchenraums
>>modulorbeat // ambitious urbanists & planers
startmenu
inverted shadow | gabi schillig
This architectural design proposal hypothesises that the second home, a holiday house, has turned into a simulation and staging of reality for the inhabitant who belongs to the category of the modern nomad. During the architectural design process military strategies were adapted to invade maps and space on Lanzarote. The house emerges as a programmed landscape, a datascape that consists of different parts, active and inactive spatial fields, infrastructural data that is informed by the user and its movement through space.
peer produced space
LampSYSTEM
LampSYSTEM LampSYSTEM is a project that blends existing systems and computation to breed a new emergent one.
Lalvani Studio | Sculpture, Architecture, Design, Morphogenomics
PANELIZE SURFACE – FORMFARM
Galerie de Aranda\Lasch
Programming Architecture - Home
peg office of landscape + architecture
MansWorks
boston center for the arts
Decode