Shopping
Be Rave Ready! Your shop for Cyber Clothing, UFO Pants, Raver Toys and more!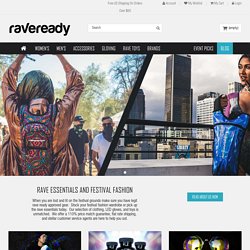 It's time to get Rave Ready! And there's no easier way to costume up than to shop here, we've got the largest selection of rave clothing and outfits, UFO pants, Kikwear Jeans, rave pants, costumes, Kikwear Jeans, Violent Lips and everything else you could possibly need! We offer the lowest prices on the best gear and accessories, flat rate shipping, and stellar customer service agents are here to help. If for any reason you can't find what you are looking for, please let us know and we will find it for you!
We welcome you to our wonderful world of unique clothing, accessories, handbags, and shoes, where fresh floral patterns and flirty designs flourish, and fun frocks and fabulously flattering swimwear spring into style. ModCloth provides an exciting and engaging online shopping experience for everyone in search of cute clothing with remarkable flair. Dozens of darling designs are added daily, so check back often for our perfect pieces of statement jewelry, the dresses you've been dreaming of, coveted vintage pieces, and an ever-expanding array of unique clothing. We're your sweetest source for women's clothing and uncommonly cute fashion! With international shipping options, ModCloth is on top of the world! Our global community is always growing, so were happy to be able to ship unique items from independent designers and cute clothing to many countries worldwide. Clothing