Cute
This Is What Happens When You Give a Puppy An Adult Doggy Water Dish! Video - StumbleUpon. Log in Comedy: Caught on Tape Michael Kaufman.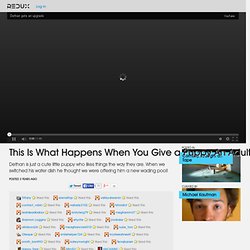 We No Speak Americano ft. Cleary &Harding - StumbleUpon. Dog Tucks Himself Into Bed (ORIGINAL VIDEO) Dancing Baby - Video - StumbleUpon. Sleepy Bear Cant Stay Awake - StumbleUpon.
Newborn Puppy Doesnt Want to go to School Today - CollegeHumor Video. Bat-Cat by ~NeoSlashott on deviantART. Baby Red Pandas Frolicking in the Snow - Jest Video - StumbleUpon.
---