Resources
Oak Meadow: Homeschooling Curriculum, Resources, and Support
unnamed pearl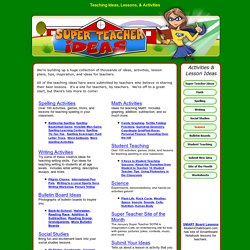 Copyright | Super Teacher Ideas : Teaching Ideas, Activities, and Games Activities & Lesson Ideas We're building up a huge collection of thousands of ideas, activities, lesson plans, tips, inspiration, and ideas for teachers. All of the teaching ideas here were submitted by teachers who believe in sharing their best lessons.
Super Teacher Ideas - Teaching Activities, Lesson Plans, Tips, and More!
Browse By Subject Browse By Standard What is FREE? The Federal Registry for Educational Excellence (FREE) makes it easier to find digital teaching and learning resources created and maintained by the federal government and public and private organizations. Read more > Disclaimer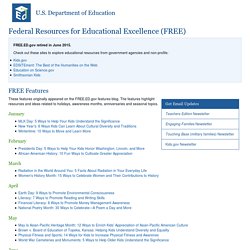 Homework Center
Change is coming to the Homework Center. Starting in early February the Homework Center will have all new content and layout. If you have a favorite resource or website from the current Homework Center be sure to bookmark the link and then check back to see what's new.