Reverse Proxy Server
Varnish Cache 3.0 is coming the 16th of June 2011. Come and celebrate with us by joining a party near you ! http://cd34.com/blog/scalability/wordpress-varnish-and-esi-plugin/ WordPress, Varnish and ESI Plugin This post is a version of the slideshow presentation I did at Hack and Tell in Fort Lauderdale, Florida at The Whitetable Foundation on Saturday, June 4, 2011. Briefly, I created a Plugin that enabled Fragment Caching with WordPress and Varnish. The problem we ran into with normal page caching methods was related to the [...]
Varnish Community | Varnish makes websites fly!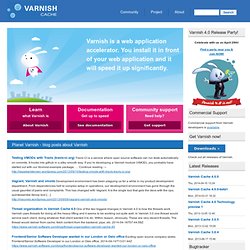 The Pound program is a reverse proxy, load balancer and HTTPS front-end for Web server(s). Pound was developed to enable distributing the load among several Web-servers and to allow for a convenient SSL wrapper for those Web servers that do not offer it natively. Pound is distributed under the GPL - no warranty, it's free to use, copy and give away.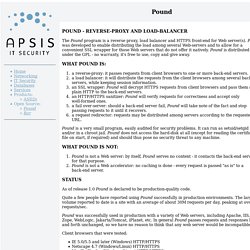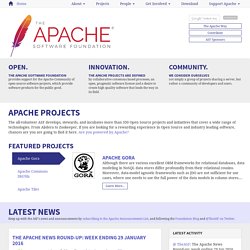 If you would like to keep up with news and announcements from the foundation and all its projects, you can subscribe to the Apache Announcements List or follow the Foundation Blog. The all-volunteer Apache Software Foundation (ASF) develops, stewards, and incubates over 200 Open Source projects and initiatives, many of which power mission-critical applications in financial services, aerospace, publishing, big data, government, healthcare, research, infrastructure, and more. Did you know that 50% of the Top 10 downloaded Open Source products are...