Lower - Large object (Internet environnement)
Berkeley DB. Oracle Berkeley DB is the industry-leading open source, embeddable storage engine that provides developers a fast, reliable, local database with zero administration.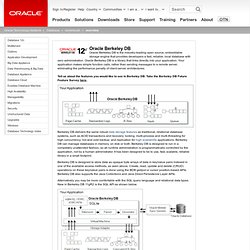 Oracle Berkeley DB is a library that links directly into your application. Your application makes simple function calls, rather than sending messages to a remote server, eliminating the performance penalty of client-server architectures. Firebird - The RDBMS that's going where you're going. Welcome to MariaDB! - MariaDB.
The world's most popular open source database. PhpMyAdmin. About phpMyAdmin is a free software tool written in PHP, intended to handle the administration of MySQL over the Web. phpMyAdmin supports a wide range of operations on MySQL, MariaDB and Drizzle.
Frequently used operations (managing databases, tables, columns, relations, indexes, users, permissions, etc) can be performed via the user interface, while you still have the ability to directly execute any SQL statement. phpMyAdmin comes with a wide range of documentation and users are welcome to update our wiki pages to share ideas and howtos for various operations. The phpMyAdmin team will try to help you if you face any problem; you can use a variety of support channels to get help. phpMyAdmin is also very deeply documented in a book written by one of the developers – Mastering phpMyAdmin for Effective MySQL Management, which is available in English and Spanish.
---