Java J2EE Portal
How to - Digital Factory DEMO Pack (Enterprise Distribution) The Digital Factory Demo Pack is the best way to get our beautiful ACME Space DEMO without any application / database installation. Discover the beautiful authoring interface of Digital Factory.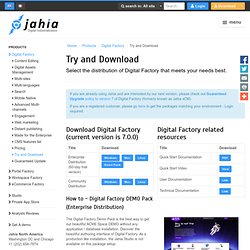 Apache Tomcat Apache Tomcat is an open source software implementation of the Java Servlet and JavaServer Pages technologies. The Java Servlet and JavaServer Pages specifications are developed under the Java Community Process. Apache Tomcat is developed in an open and participatory environment and released under the Apache License version 2. Apache Tomcat is intended to be a collaboration of the best-of-breed developers from around the world.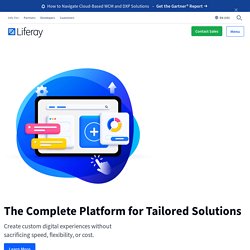 We are generating more content than ever, working with it from our devices as well as our desktops, and delivering it to the right channels to empower sales reps, reach new markets, and solve customer issues. Which is why it is more important than ever to have full control of your content creation process. When you put content in context, you empower people to make critical decisions when they're immersed in the business moment. Reduced decision friction means more purchases, faster business evolution, and more time to focus on what's truly important.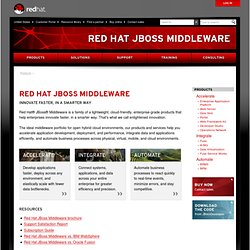 Innovate faster, in a smarter way Red Hat® JBoss® Middleware is a family of a lightweight, cloud-friendly, enterprise-grade products that help enterprises innovate faster, in a smarter way. That's what we call enlightened innovation. The ideal middleware portfolio for open hybrid cloud environments, our products and services help you accelerate application development, deployment, and performance, integrate data and applications efficiently, and automate business processes across physical, virtual, mobile, and cloud environments.
LUTECE - Accueil
Open-Source et Gratuit Lutece est un logiciel libre. Son code source est publié sous licence BSD et librement di­sponible sur la plate-forme de développement.Lutèce est gratuit au téléchargement et à l'utilisation, sans aucun frais de licence. Modulaire Lutèce est basé sur une architecture entièrement modulaire : toutes les fonctions, y compris la gestion de contenu, sont des plugins qui fonctionnent sur noyau minimal
Portal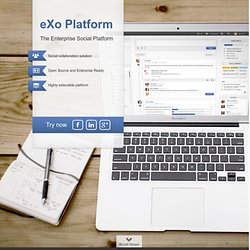 Build a Social Intranet eXo Platform is an out-of-the-box social intranet solution. Rich collaboration features such as wikis, forums, calendars and documents are smartly integrated around activity streams, social networking and workspaces.