Java J2EE Portal
Jahia. How to - Digital Factory DEMO Pack (Enterprise Distribution) The Digital Factory Demo Pack is the best way to get our beautiful ACME Space DEMO without any application / database installation.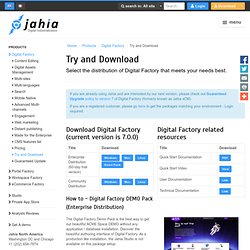 Discover the beautiful authoring interface of Digital Factory. Apache Tomcat - Welcome! Alfresco - Open Source Enterprise Content Management System (CMS) by Alfresco. Liferay.com - Enterprise open source portal and collaboration software. JBoss - Global Leader in Open Source Middleware Software. Innovate faster, in a smarter way Red Hat® JBoss® Middleware is a family of a lightweight, cloud-friendly, enterprise-grade products that help enterprises innovate faster, in a smarter way.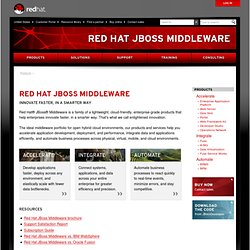 That's what we call enlightened innovation. The ideal middleware portfolio for open hybrid cloud environments, our products and services help you accelerate application development, deployment, and performance, integrate data and applications efficiently, and automate business processes across physical, virtual, mobile, and cloud environments. JBoss Enterprise Middleware. LUTECE - Accueil.
Open-Source et Gratuit Lutece est un logiciel libre.
Son code source est publié sous licence BSD et librement di­sponible sur la plate-forme de développement.Lutèce est gratuit au téléchargement et à l'utilisation, sans aucun frais de licence. Modulaire Lutèce est basé sur une architecture entièrement modulaire : toutes les fonctions, y compris la gestion de contenu, sont des plugins qui fonctionnent sur noyau minimal. Portal. eXo Home. Build a Social Intranet eXo Platform is an out-of-the-box social intranet solution.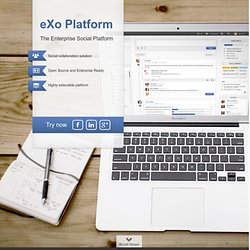 Rich collaboration features such as wikis, forums, calendars and documents are smartly integrated around activity streams, social networking and workspaces.
---