IaaS (: Infrastructure as a Service)
Hybridfox - Happily Connects to All* Compute Clouds. Hybridfox now allows addition and removal of any of the regions.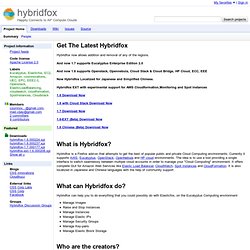 And now 1.7 supports Eucalyptus Enterprise Edition 2.0 And now 1.6 supports Openstack, Opennebula, Cloud Stack & Cloud Bridge, HP Cloud, ECC, EEE Now Hybridfox Localized for Japanese and Simplified Chinese. Home » OpenStack Open Source Cloud Computing Software. Eucalyptus Community. Nimbus.
---