Communities
Open Source World Map
About this Map Explore open source software hotspots around the world through the interactive Open Source Index, or OSI, based on 2008 research conducted by the Georgia Institute of Technology (Georgia Tech). The OSI is a measure of the open source activity and environment in 75 countries. Each country is given a score based on its policies, practices, and other data in the fields of Government, Industry, and Community.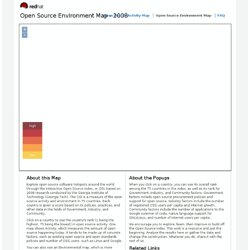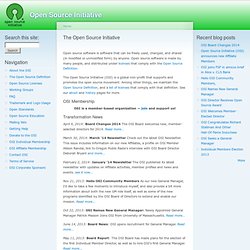 Open source software is software that can be freely used, changed, and shared (in modified or unmodified form) by anyone. Open source software is made by many people, and distributed under licenses that comply with the Open Source Definition. The Open Source Initiative (OSI) is a global non-profit that supports and promotes the open source movement. Among other things, we maintain the Open Source Definition, and a list of licenses that comply with that definition. See our about and history pages for more. OSI Membership
KDE-Apps.org Applications for the KDE-Desktop GTK-Apps.org Applications using the GTK Toolkit GnomeFiles.org Applications for GNOME MeeGo-Central.org Applications for MeeGo
The Linux Portal - openDesktop.org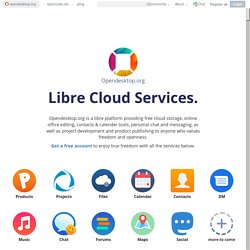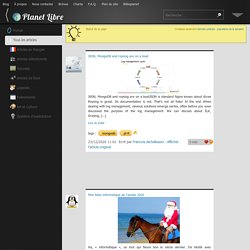 Portail Tous les articles Articles en français Articles sélectionnés Tutoriels Articles de fond Logiciels Evénements Art et Culture Système d'exploitation Statut de la page Steam et libc6 sous Wheezy 64 bits Ce soir j'ai un peu de temps libre et pour passer mes nerfs de la journée j'ai voulu me défouler en fragant (comme on dit dans le jargon) quelques méchants dans Half-life 2 sur Steam. Après de longues semaines sans jouer j'avais hâte !
iFOSSF | International Free and Open Source Software Foundation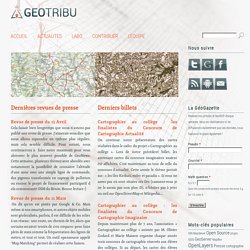 L'équipe de GeoTribu vous propose cette semaine de tester vos connaissances en cartographie avec un nouveau jeu, les questions à choix multiples. Le principe est simple, on vous pose une question, vous cochez une ou plusieurs réponses, une fois que vous avez répondu à toutes les questions, on vous retourne un pourcentage de bonnes réponses, ce qui vous permet de vérifier votre niveau ! Pour cette première de ce nouveau jeu, nous avons décidé de s'attaquer à l'histoire de la cartographie. Vous...
Accueil | GeoTribu
Free/Libre/Open Source Software: Worldwide impact study The FLOSSWorld project aims to strengthen Europe's leadership in research into FLOSS and open standards, building a global constituency with partners from Argentina, Brazil, Bulgaria, China, Croatia, India, Malaysia and South Africa. Context Free/Libre/Open Source Software (FLOSS) is arguably one of the best examples of open, collaborative, internationally distributed production and development that exists today, resulting in tremendous interest from around the world, from government, policy, business, academic research and developer communities. The problem However, empirical data on the impact of FLOSS, its use and development is still quite limited.
FLOSSworld: home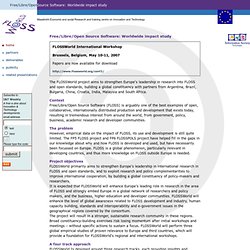 Geeknet Stuff for Smart Masses. Dice Holdings, Inc. has acquired Geeknet's media business including Sourceforge, Slashdot and Freecode as of Sept 18, 2012.
Geeknet :: The Online Network for the Global Geek Community