Communities
Open Source World Map
About this Map Explore open source software hotspots around the world through the interactive Open Source Index, or OSI, based on 2008 research conducted by the Georgia Institute of Technology (Georgia Tech). The OSI is a measure of the open source activity and environment in 75 countries. Each country is given a score based on its policies, practices, and other data in the fields of Government, Industry, and Community.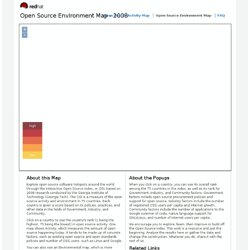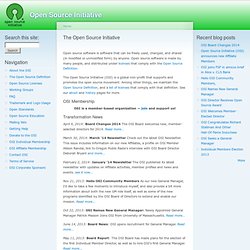 Open source software is software that can be freely used, changed, and shared (in modified or unmodified form) by anyone. Open source software is made by many people, and distributed under licenses that comply with the Open Source Definition. The Open Source Initiative (OSI) is a global non-profit that supports and promotes the open source movement. Among other things, we maintain the Open Source Definition, and a list of licenses that comply with that definition. See our about and history pages for more. OSI Membership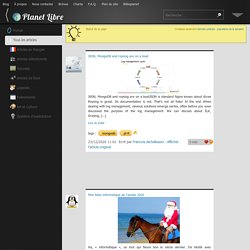 Xubuntu, pourquoi pas. Je n'ai jamais été fan de Xfce vanilla, mais l'intégration dans Xubuntu est plutôt intéressante. Plus léger que KDE (surtout au lancement) et proche de l'esprit Gnome 2. De plus la version 32 bits est assez légère et peut tenir sur des machines avec 1GB de ram, pratique pour redonner un coup de jeune aux vieilles bécanes (après la fin du support de Windows XP par exemple). Xubuntu c'est bon, mangez-en.
iFOSSF | International Free and Open Source Software Foundation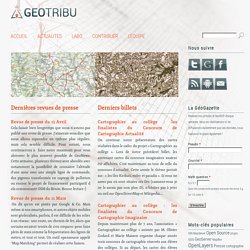 Lors d'un récent projet, j'ai été amené à travailler sur une application cartographique dont les fondations avaient déjà été mises en place par le précédent développeur. En background on avait de l'usuel, à savoir MapServer et TileCache. Ma première impression fût, bon c'est cool on est sur de l'habituel ça devrait rouler. Après une petite exploration du projet et au regard du mode d'utilisation, je me suis rendu compte qu'en fait ces deux composants étaient complètement inutiles.
Accueil | GeoTribu
Free/Libre/Open Source Software: Worldwide impact study The FLOSSWorld project aims to strengthen Europe's leadership in research into FLOSS and open standards, building a global constituency with partners from Argentina, Brazil, Bulgaria, China, Croatia, India, Malaysia and South Africa. Context Free/Libre/Open Source Software (FLOSS) is arguably one of the best examples of open, collaborative, internationally distributed production and development that exists today, resulting in tremendous interest from around the world, from government, policy, business, academic research and developer communities. The problem However, empirical data on the impact of FLOSS, its use and development is still quite limited.
FLOSSworld: home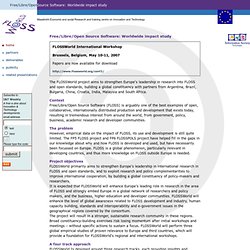 Geeknet Stuff for Smart Masses. Dice Holdings, Inc. has acquired Geeknet's media business including Sourceforge, Slashdot and Freecode as of Sept 18, 2012.
Geeknet :: The Online Network for the Global Geek Community