About Open Source
In production and development, open source as a development model promotes a) universal access via free license to a product's design or blueprint, and b) universal redistribution of that design or blueprint, including subsequent improvements to it by anyone.[1][2] Researchers view open source as a specific case of the greater pattern of Open Collaboration, "any system of innovation or production that relies on goal-oriented yet loosely coordinated participants, who interact to create a product (or service) of economic value, which they make available to contributors and non-contributors alike".[3] Before the phrase open source became widely adopted, developers and producers used a variety of other terms. Open source gained hold with the rise of the Internet, and the attendant need for massive retooling of the computing source code.[4][page needed] Opening the source code enabled a self-enhancing diversity of production models, communication paths, and interactive communities.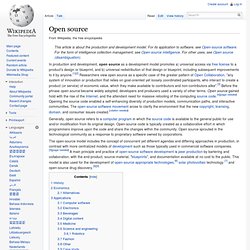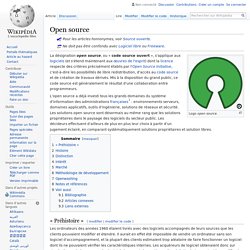 Un article de Wikipédia, l'encyclopédie libre. Logo open source La désignation open source, ou « code source ouvert », s'applique aux logiciels dont la licence respecte des critères précisément établis par l'Open Source Initiative, c'est-à-dire les possibilités de libre redistribution, d'accès au code source et de créer des travaux dérivés. Souvent, un logiciel libre est qualifié d'« open source », car les licences compatibles open source englobent les licences libres selon la définition de la Free Software Foundation ou FSF. On utilise aussi l'expression « free software » ou « logiciel libre » recommandée par la FSF. Les mots graticiel ou « freeware », quant à eux, désignent les logiciels gratuits, qu'ils soient ouverts ou non.
Free Software or Open Source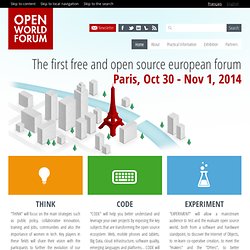 "THINK" will focus on the main strategies such as public policy, collaborative innovation, training and jobs, communities and also the importance of women in tech. Key players in these fields will share their vision with the participants to further the evolution of our knowlegde society. Learn more "CODE" will help you better understand and leverage your own projects by exposing the key subjects that are transforming the open source ecosystem: Web, mobile phones and tablets, Big Data, cloud infrastructure, software quality, emerging languages and platforms... CODE will also be your opportunity to meet key specialists in these fields. "EXPERIMENT" will allow a mainstream audience to test and the evaluate open source world, both from a software and hardware standpoint, to discover the Internet of Objects, to re-learn co-operative creation, to meet the "makers" and the "DYIers", to better understand the natural interfaces and better live with the Internet and Open Source.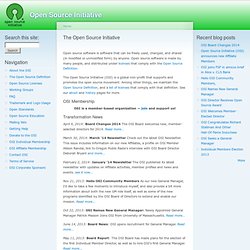 Open source software is software that can be freely used, changed, and shared (in modified or unmodified form) by anyone. Open source software is made by many people, and distributed under licenses that comply with the Open Source Definition. The Open Source Initiative (OSI) is a global non-profit that supports and promotes the open source movement. Among other things, we maintain the Open Source Definition, and a list of licenses that comply with that definition. See our about and history pages for more.