Bad BioTech
Government Says Biotech Companies Can Be Their Own Safety Testers. Biotech companies will soon perform their own studies to determine whether their genetically modified seeds are safe for the environment, according to a new federal plan.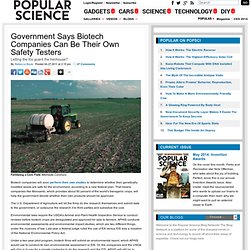 That means companies like Monsanto, which provides about 90 percent of the world's transgenic crops, will help the government decide whether their own products should be approved. The U.S. Department of Agriculture will let the firms do the research themselves and submit data to the government, or outsource the research it to third parties and subsidize the cost. Avalon's Kinsella Calls Out Big Pharma for "Bad Behavior" That's Pushing Biotech Ventures "Almost to Point of Extinction" Bruce V.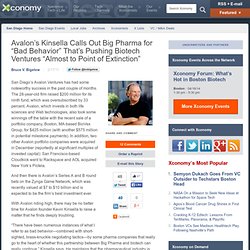 Bigelow2/17/11 San Diego's Avalon Ventures has had some noteworthy success in the past couple of months. The 28-year-old firm raised $200 million for its ninth fund, which was oversubscribed by 33 percent. Avalon, which invests in both life sciences and Web technologies, also took some winnings off the table with the recent sale of a portfolio company, Boston, MA-based BioVex Group, for $425 million (with another $575 million in potential milestone payments).
In addition, two other Avalon portfolio companies were acquired in December (reportedly at significant multiples of invested capital): San Francisco-based Cloudkick went to Rackspace and AOL acquired New York's Pictela. (11/23/98) Angry Biotech Firms Slam Monsanto For Industry's Bad Image. Though wary of breaking a tradition of solidarity against opponents of genetic engineering, other companies are distancing themselves from Monsanto.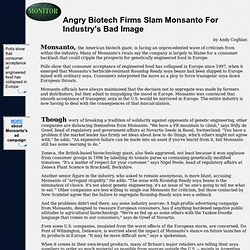 "We have a PR mountain to climb," says Willy de Greef, head of regulatory and government affairs at Novartis Seeds in Basel, Switzerland. "You have a problem if the market leader has firmly set ideas about how to do things, which others might not agree with," he adds. "An expensive failure can be made into an asset if you've learnt from it, but Monsanto still has some learning to do. "