Humor
67503f28-99c5-43fb-909b-7fe4472fd5f0.jpg (400×1310) Animator vs. Animation II. The Sad World Of The Misunderstood House Spider. If there's one arthropod with an unfortunately bad rap in the human world, it's the common house spider.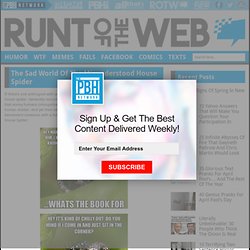 Generally reclusive and non-threatening to people, spiders eat all the creatures that annoy humans (mosquitoes, flies, and roaches) while occupying the empty crevices of human shelter. And yet their very presence makes the average person go after these benevolent creatures with a fury. And so we present the sad world of the Misunderstood House Spider: Target Practice. This is war! If 9 Stars Had Lived (Long Enough To Embarrass Themselves) True Story. Highest Rated - Status Humor - Funny Status Updates, Funny Status, Funny Status Messages, Funny Facebook Status, Funny FB Status, Funny Statuses, Status Humor, Funny Status Update. Social Network Status Humor See All Health Kids Love.
Math teacher pranks students with live video. 10 more interesting facts you probably didn't know. If you're in a bad mood----read this from Joe Burton. You can't read this and stay in a bad mood!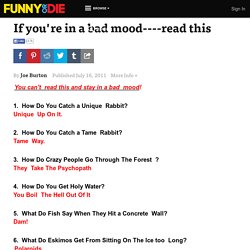 1. How Do You Catch a Unique Rabbit? Unique Up On It.2. How Do You Catch a Tame Rabbit? So many questions. Show Me Your Money Face! Proving that money can buy happiness, these money/face mashups are stacking up quick around the web.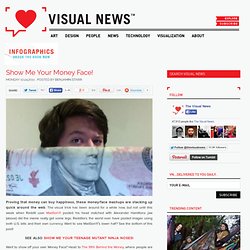 The visual trick has been around for a while now, but not until this week when Reddit user MadSon11 posted his head matched with Alexander Hamiltons jaw (above) did the meme really get some legs. Redditors the world over have posted images using both U.S. bills and their own currency. Want to see MadSon11′s lower half? See the bottom of this post!
---