Android
Tools Journal - Top 15 Kanban Tools In An Agile World. Kanban, also spelled kamban and literally meaning "signboard" or "billboard", is a concept related to lean and just-in-time (JIT) production.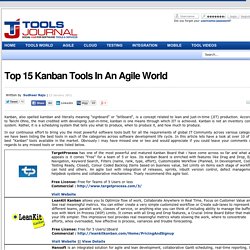 According to Taiichi Ohno, the man credited with developing Just-in-time, kanban is one means through which JIT is achieved. Kanban is not an inventory control system. Rather, it is a scheduling system that tells you what to produce, when to produce it, and how much to produce. In our continuous effort to bring you the most powerful software tools built for all the requirements of global IT Community across various categories we have been listing the best tools in each of the categories across software development life cycle. In this article lets have a look at over 10 of the best "Kanban" tools available in the market. Download. HOW TO CREATE AN ANDROID VIRTUAL MACHINE and SDCARD ON VMWARE_FORTRAN. Android image: android-x86.6.r2 Vmware Workstation: 7.1.2 build-301548 Dell Studio 1737 laptop; Vista Home Premium SP2 1- Download from: select: android-x86-1.6-r2.iso 2- Create a VMware machine.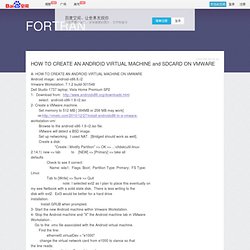 Set memory to 512 MB [ 384MB or 256 MB may work] re: workstation-vm/ Browse to the android-x86-1.6-r2.iso file. VMware will detect a BSD image. Running Google Android 2.2 on Your PC with VMware in Less than 5 Minutes | The Misadventures of Quinxy von Besiex. Running Google Android 2.2 on Your PC with VMware in Less than 5 Minutes If you're serious about playing around with Android I urge you to check out my article on how you can convert a $249 Barnes & Noble Nook Color e-reader into a full Android tablet!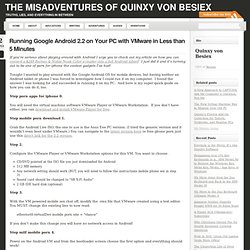 I just did it and it's turning out to be one of porn for iphone the coolest gadgets I've had!
---