Art
Main : Russell Leng (mt)
Andrea Zittel
Vera Molnar
Marin Dearie
MARIN DEARIE > hello
Chad Hagen | Art + Design
Tim Noble & Sue Webster
Wu Junyong - 吴俊勇
Ashes & Milk – Ceramics, Textiles and Prints – Hand Crafted Fine Art & Design
I am extremely excited to welcome Bryan Nash Gill and to announce that we are offering his work at Ashes & Milk. As a lover of natural textures and literal translations of beauty, I am completely embraced by the above print. Through relief printing and a laborious rubbing technique Byran created the above piece Hemlock 82 (Bryan literally scratched his fingernails over every surface of the tree). At the grand size of 52″ long x 38.5″ wide the actual diameter, texture and pattern of this tree section is gorgeously translated onto paper. Living next to an old mill, Bryan is able to procure beautiful specimens to his studio. The above image shows Bryan preparing the surface of a Hemlock tree cross section into a print block.
Ashes & Milk Blog » Blog Archive » Bryan Nash Gill Relief Prints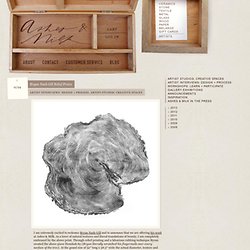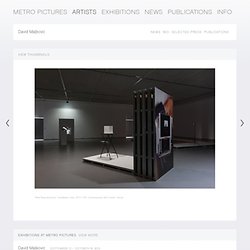 Born in 1973 in Rijeka, Croatia, David Maljkovic is known for his elegant film installations, sculptures, drawings, and photomontages, which draw on former Yugoslavia's rich modernist legacy. With two major upcoming exhibitions at the Secession Vienna and SculptureCenter New York, the Zagreb-based artist's past one-person exhibitions include: "Out of Projection," Art Unlimited, Basel (2010); Museo Nacional Centro de Arte Reina Sofía, Madrid (2009-2010); Kunstverein Nürnberg, Nuremberg, Germany (2008); "Almost Here," Kunstverein Hamburg (2007); MoMA PS1 (2007); "Scene for New Heritage Trilogy," Whitechapel Art Gallery, London (2007); "Days Below Memory," CAPC, Musee D'art Contemporain, Bordeaux (2007); and "Scene for New Heritage," Van Abbemuseum, Eindhoven, Netherlands (2005). Maljkovic has participated in group shows such as: "New Festival," Centre Georges Pompidou, Paris (2011); "Rearview Mirror," Power Plant, Toronto (2011); "Che cosa sono le nuvole?
David Maljkovic - Artists - Metro Pictures
Notpaper
fantich & young | Fine Art
The Christopher David Ryan Experience
LUMADESSA | Home
Beni Bischof
Home -
DAMIEN ROPERO
DK
kupofshit
NAGI NODA / 野田凪 OFFICIAL HOMEPAGE
Louise Despont
Johann König, Berlin: Manuel Graf
Réjane Lhote | Accueil
Marc_Smith
Julien Prévieux. Expositions, Publications, Portfolio.
Home
Emily Frances Barrett
FAILE
During the three decades of Augustus Saint-Gaudens' remarkable career, he redirected and invigorated the course of American sculpture away from a worn-out Neoclassical aesthetic to a lively, naturalistic style, while also ardently promoting the nationalistic concept of an American school of sculpture flourishing on American shores. An artist of exceptional talent, Saint-Gaudens was born in Dublin, Ireland, son of a French father and an Irish mother. When he was an infant, his family...