Arte
RICHARD DASKAS. 2dbean on Instagram. Hot 3d Cartoon Characters by Andrew Hickinbottom. Andrew Hickinbottom is an artist born in 1979 in Wolverhampton, currently working from London, UK.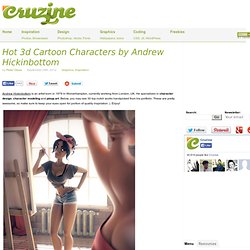 He specializes in character design, character modeling and pinup art. Below, you may see 30 top-notch works handpicked from his portfolio. These are pretty awesome, so make sure to keep your eyes open for portion of quality inspiration .). Enjoy! Cosmos - (ˆ∇ˆ): Archive. JohnnyExpress. Creatures / Monsters en Pinterest. JAM compositions *___* (teamwork) The Original Star Wars Concept Art Is Amazing. Sunmin Inn Portfolio. Ambient Occlusion Painting Tutorial, sorta.
Hey guys!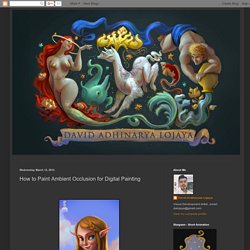 :D I'm back with my very first Ambient occlusion painting tutorial! :D This tutorial was inspired by an awesome fan art of Frozen by Jiyu Kaze can be found here: you guys can follow his facebook page here: and Sam Nielson's tutorial can be found here: follow his blog here: Why Ambient Occlusion or AO painting? 2014 Character Design Portfolio. Borja Montoro. PETE. Heureux comme un porc dans l'eau. DOUSSE. Cyrille C. Feerik-art.com. Costume Design in Animation - Disney's Frozen - Tyranny of Style. When you think of a Disney animated film, spectacular costume design might not be the first thought that crosses your mind, but all that has changed with the recent release of Frozen.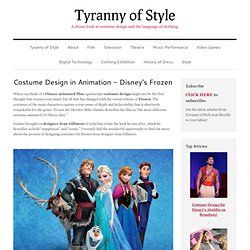 The costumes of the main characters capture a true sense of depth and believability that is absolutely remarkable for the genre. Frozen Art Director Mike Giaimo describes the film as "the most elaborate costume-animated CG film to date." Art of Faye Hsu. Walt Disney Animation Studios. Hand Poses by Melyssah6-Stock on deviantART. Disney maquette sculptures by artist Kent Melton. S.T.E.A.K. | Super Technikal Electrik Animation Kollective.
Guinness Book of Records for creating the world's longest wooden carving. By Chris Pleasance Published: 18:26 GMT, 18 November 2013 | Updated: 22:16 GMT, 18 November 2013 A Chinese artist has won a place in the Guinness Book of Records after creating the world's longest wooden carving.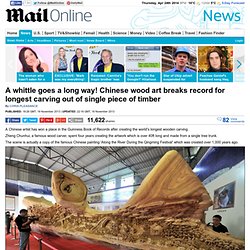 Zheng Chunhui, a famous wood carver, spent four years creating the artwork which is over 40ft long and made from a single tree trunk. The scene is actually a copy of the famous Chinese painting 'Along the River During the Qingming Festival' which was created over 1,000 years ago. Chinese artist Zheng Chunhui took four years to complete this wood carving which is a copy of a famous painting. Romain trystram blog.
Joel27. Art of Nico Marlet. Home | Jake Parker Online Shop. Shanen Pae. FZD Student Term Break Work - Visual Library. Bruce Timm. Bruce Walter Timm (Né en 1961) est un créateur américain de dessins animés spécialisé dans les super-héros.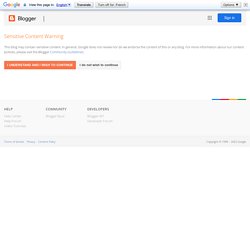 Il a également réalisé quelques comics comme scénariste et/ou dessinateur. Bruce Timm a commencé sa carrière dans l'animation en tant qu'illustrateur de décors sur la série les Maîtres de l'univers en 1983. Il a ensuite été engagé comme dessinateur de story-boards chez Warner sur la série Tiny toons. En 1991, il propose un épisode-pilote pour Batman, qui donnera naissance à la série télé à succès. On lui doit le design moderne "carré" bien connu des séries animées de Batman, Superman et la Ligue des Justiciers.
Fuck Yeah Bruce Timm! 4th April 2014 Photo reblogged from Cartoon Retro with 484 notes 14th March 2014 Photo reblogged from ComicsAlliance with 132 notes.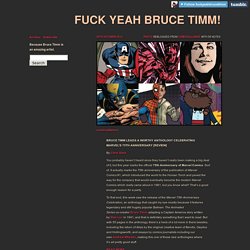 Figuredrawing.info_news. The_dimka: codex seraphinianus. In the late 70s italian architect, illustrator and industrial designer luigi serafini made a book, an encyclopedia of unknown, parallel world. it's about 360-380 pages. it is written in an unknown language, using an unknown alphabet. it took him 30 month to complete that masterpiece that many might call "the strangest book on earth". codex seraphinianus is divided to 11 chapters and two parts - first one is about nature and the second one is about people.btw five hundred years ago there was another book somewhat like that - voynich manuscript. take a look at some pages (click on image to see a bigger version) amazon sells those for 500 bucks or more you can read about it in wikipedia.i can't even tell you how much i like stuff like that phat a?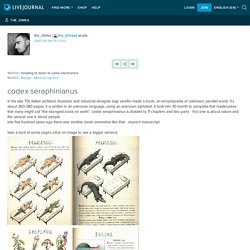 FZD Advanced Diploma Student - Dmitry Sorokin. Cloudy With a Chance of Meatballs 2 - Visual Development Work. Juan Pablo Zaramella on Behance. Hand Poses Galore! One of the most over looked parts of a character's body when animated are the hands.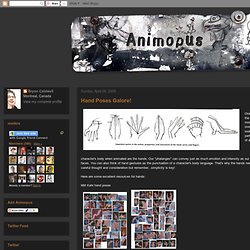 Our "phalanges" can convey just as much emotion and intensity as our faces. You can also think of hand gestures as the punctuation of a character's body language. THE JAKE WYATT RIOT. Greig Rapson. Despicable Me 2 Character and Concept Art. Star Wars: Rebels Concept Art 222 Views0 Likes Star Wars: Rebels Concept Art Star Wars: Rebels Concept Art, Concept Art, Digital art, Art, Star Wars: Rebels, Star Wars, Rebels, Star Wars Concept Art, Conceptart.
Arte de Kung Fu Panda, por Sean Eckols. Sean Eckols desenvolve trabalhos de Production Design, Art Direction e Visual Development para filmes e animação.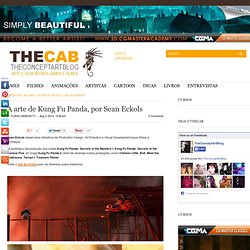 Já participou da produção dos curtas Kung Fu Panda: Secrets of the Masters e Kung Fu Panda: Secrets of the Furious Five, do longa Kung Fu Panda 2, além de diversas outras produções, como Chicken Little, Bolt, Meet the Robinsons, Tarzan e Treasure Planet. Visite o site do artista para ver diversos outros trabalhos. VISITE: Sean Eckols website. Mr. President on Behance. Papa Nimba. Sophie Boniface. Sébastien Camus. Papa Nimba. Anders Ehrenborg - Portfolio. Aurore Damant. Critter Scribbles and Whatnot.
GEO A DAY. Concept Art - 3D Design. Westoons. MSTRFNG. ARO. Beautiful vector illustrations by Christian Schupp aka ARO. Stephen neary tumblrd. Mike azevedo: Blab bloob. Dorimster. Stephen Nicodemus. Stuff. (by ido yehimovitz) Ido Yehimovitz. SamTaylorAnimation. Nooree Kim. HYPERCASTLE. Art by Thorhauge. Maike Plenzke Illustration. ANDRÉS ARIZAWorld Top illustrators. Jeremy Kool's art blog. Smears, Multiples and Other Animation Gimmicks. Portrait Sculptures, Sculpting Instruction & Marble Sculptures by Philippe Faraut. Character Design. Original Comic Book Art For Sale at Romitaman.com.
Galerie de dulk_ Paperman Breakdown. Laro's Art Box. STASH. Street Fighter, Sin City, Batman and others – 30 Mind Blowing illustrations by Mike Henry. Anthony Najjar - Lighting/CG Artist. Work In Progress - pedroconti. Www.lucasl.com.br. Squarepoo. Tattoo. | Ink Butter™ | Tattoo Aftercare. Secuencia de fotos de rafa 011. Santos cerdos ! Facts and Chicks. Daddy's Dirty Pictures. Nineandcynyk. Luky. ***. FijARTE. Passion Pictures. Bill Sneed :: Gentleman.
BLU. Videos. DAVID OREILLY. Caution Boys & Girls!! Cake or death | m • o • y • a.
---