Arte
2dbean on Instagram
Andrew Hickinbottom is an artist born in 1979 in Wolverhampton, currently working from London, UK. He specializes in character design , character modeling and pinup art . Below, you may see 30 top-notch works handpicked from his portfolio. These are pretty awesome, so make sure to keep your eyes open for portion of quality inspiration .). Enjoy!
Hot 3d Cartoon Characters by Andrew Hickinbottom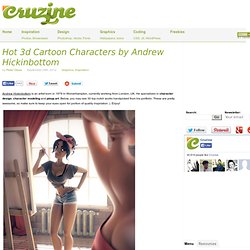 Cosmos -
(ˆ∇ˆ): Archive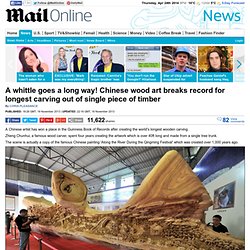 By Chris Pleasance PUBLISHED: 18:26 GMT, 18 November 2013 | UPDATED: 22:16 GMT, 18 November 2013
Guinness Book of Records for creating the world's longest wooden carving
romain trystram blog
joel27
Art of Nico Marlet
[Short mod post: Tumblr seems to have problems when reblogging things off of people's blogs. This is run as a side blog and for some reason reblogs that are meant to be and are shown to go to my main account will post here instead. Hopefully this will get fixed soon and I apologize for unrelated content popping up on here.]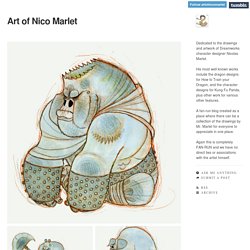 Home | Jake Parker Online Shop
Shanen Pae
FZD Student Term Break Work - Visual Library
Bruce Walter Timm (Né en 1961) est un créateur américain de dessins animés spécialisé dans les super-héros. Il a également réalisé quelques comics comme scénariste et/ou dessinateur. Bruce Timm a commencé sa carrière dans l'animation en tant qu'illustrateur de décors sur la série les Maîtres de l'univers en 1983. Il a ensuite été engagé comme dessinateur de story-boards chez Warner sur la série Tiny toons.
Bruce Timm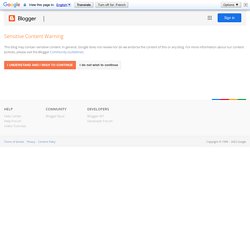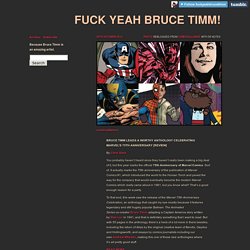 Fuck Yeah Bruce Timm!
23rd December 2012 Photoset reblogged from THE THOUGHT EMPORIUM IMPERIAL with 6,626 notes the-thought-emporium-imperial : Tagged: bruce timm Batgirl Barbra Gordon DC DC Comics Prototypes
figuredrawing.info_news
the_dimka: codex seraphinianus
in the late 70s italian architect, illustrator and industrial designer luigi serafini made a book, an encyclopedia of unknown, parallel world. it's about 360-380 pages. it is written in an unknown language, using an unknown alphabet. it took him 30 month to complete that masterpiece that many might call "the strangest book on earth". codex seraphinianus is divided to 11 chapters and two parts - first one is about nature and the second one is about people.btw five hundred years ago there was another book somewhat like that - voynich manuscript. take a look at some pages (click on image to see a bigger version) amazon sells those for 500 bucks or more you can read about it in wikipedia.i can't even tell you how much i like stuff like that phat a?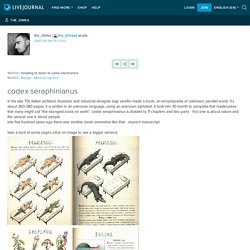 quenched consciousness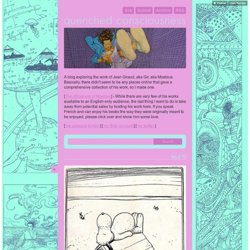 A blog exploring the work of Jean Giraud, aka Gir, aka Moebius. Basically, there didn't seem to be any places online that gave a comprehensive collection of his work, so I made one. [ The official site of Moebius ] - While there are very few of his works available to an English-only audience, the last thing I want to do is take away from potential sales by hosting his work here. If you speak French and can enjoy his books the way they were originally meant to be enjoyed, please click over and show him some love. [ personal tumblr ] [ flickr ] [ twitter ]
FZD Advanced Diploma Student - Dmitry Sorokin
Cloudy With a Chance of Meatballs 2 - Visual Development Work
Chiara Benedetti artworks
Juan Pablo Zaramella on Behance
One of the most over looked parts of a character's body when animated are the hands. Our "phalanges" can convey just as much emotion and intensity as our faces. You can also think of hand gestures as the punctuation of a character's body language.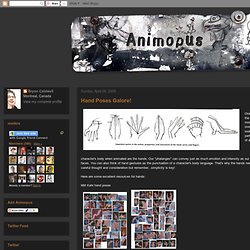 Hand Poses Galore!
THE JAKE WYATT RIOT
Greig Rapson
Despicable Me 2 Character and Concept Art
Ice Age 4 Characters Design 1.77K Views 0 Likes Ice Age 4 Characters design by Peter DeSeve ----------------------------------------------------------------------------------------------------------------------------------------...
Sean Eckols desenvolve trabalhos de Production Design, Art Direction e Visual Development para filmes e animação. Já participou da produção dos curtas Kung Fu Panda: Secrets of the Masters e Kung Fu Panda: Secrets of the Furious Five , do longa Kung Fu Panda 2 , além de diversas outras produções, como Chicken Little , Bolt , Meet the Robinsons , Tarzan e Treasure Planet . Visite o site do artista para ver diversos outros trabalhos. VISITE: Sean Eckols website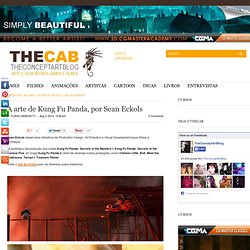 Arte de Kung Fu Panda, por Sean Eckols
Mr. President on Behance
Papa Nimba
Sophie Boniface
Sébastien Camus
Papa Nimba
Anders Ehrenborg - Portfolio
Aurore Damant
Here is a short film I made with my boyfriend when we just finished Gobelins, in 2003. So it's not very new, but I really have a crush for it, because it's the very first film we did. It was a commission from the french chanel TF1, who wanted to broadcast 8 short films about "the peace in the world of children". It was quite hard to do a film which wasn't simple-minded, but I think we made it.
Critter Scribbles and Whatnot
GEO A DAY
Concept Art - 3D Design
Westoons
MSTRFNG
ARO
Beautiful vector illustrations by Christian Schupp aka ARO
stephen neary tumblrd
Mike azevedo: Blab bloob
dorimster
Stephen Nicodemus
stuff. (by ido yehimovitz)
Ido Yehimovitz
SamTaylorAnimation
Nooree Kim - Character Design Page
HYPERCASTLE
Art by Thorhauge
Maike Plenzke Illustration
ANDRÉS ARIZAWorld Top illustrators
portlynntagavi
The Art of Matt Kaufenberg
Jeremy Kool's art blog
Smears, Multiples and Other Animation Gimmicks
Portrait Sculptures, Sculpting Instruction & Marble Sculptures by Philippe Faraut
Character Design
Original Comic Book Art For Sale at Romitaman.com
Galerie de dulk_
Paperman Breakdown - Animation
Laro's Art Box
STASH
Street Fighter, Sin City, Batman and others – 30 Mind Blowing illustrations by Mike Henry
Anthony Najjar - Lighting/CG Artist
Work In Progress - pedroconti
www.lucasl.com.br
Squarepoo
Fuck Yeah, Tattoos!
| Ink Butter™ | Tattoo Aftercare
cynalfa
Secuencia de fotos de rafa 011
santos cerdos !
Facts and Chicks
Daddy's Dirty Pictures
nineandcynyk
Luky
***
FijARTE
Passion Pictures
Bill Sneed :: Gentleman
BLU
Videos
DAVID OREILLY
Caution Boys & Girls!!
cake or death | m • o • y • a
STREETS OF BEIGE
Common Black Dragonfish, Idiacanthus atlanticus Brauer, 1906
The Art of Rudy-Jan Faber
Freshcharacters | Fresh & Unique Character Designs Inspiration Gallery
Denis Zilber Art Blog
Will Murai
Derek Hess
Chris Cunningham
Artist Takes Every Drug Known to Man, Draws Self Portraits After Each Use
MONFA | illustration
Tim Shumate | Society6
www.luisgadea.com
Stef Tastan
BLOGOLPEAVISA | Central de Abasto Gráfico
Apocalypse Tomorrow Pin-Up Calendar – Les filles sexy survivront à l'apocalypse
gallery – The Official Website of Chris Sanders
lehuss
Lilo All Grown Up
100 portafolios de artistas del mundo digital | ZaRQuN.com - Blog sobre diseño grafico en general y curiosidades
Graphic Design Inspiration
Muddy Colors
Character Design projects on the Behance Network
theconceptartblog.com
Cgunit - Online Gallery
Brittney Lee
Jordi Gaspar
Barbara Canepa
Runa Ryberg
AHMED GUERROUACHE
la main gauche animée
Creativity, what?
Caia Koopman - lowbrow artist California
World Peace Through Character Design
El Browser on the Behance Network
John K Stuff
Character Design | Artist Interviews
VICTOR CASTILLO
Trevor's Work
Hoisel
HOISEL - UOL Blog