(London) Transport, Travel, & Events
Tate Britain, Millbank London's premier gallery for British art spans the centuries, collecting canvases from Hogarth, Constable and Gainsborough, but also displaying more recent art from the likes of Gilbert & George. Tate Britain is particularly noted for its extensive collections of Turners, housed in a specially created wing.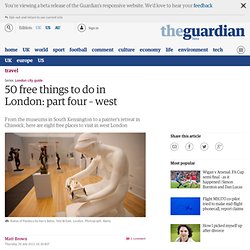 50 free things to do in London: part four – west | Travel
London's ten best afternoon teas
Best for fashionistas: The Berkeley's Prêt-à-PorteaReviewed by Belinda White The Berkeley hotel has craftily targeted its afternoon tea at London's diehard tea-takers: the fashion pack, who rarely conduct meetings over any other mealtime. Its Prêt-à-Portea offers everything you'd expect from a traditional afternoon tea but with a twist: each of the sugary fancies is styled after a key fashion look of the season. There was a white Burberry trench coat chocolate biscuit, a Stella McCartney polka dot sponge cake and even a miniature Valentino orange and ginger cake handbag.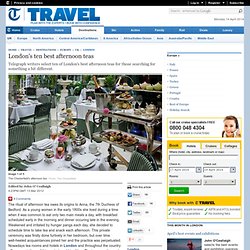 Feeling adventurous? Looking for attractions in London? Or fancy revisiting a favourite London experience? Choose between 'Attractions and days out' or 'Things to do outdoors', then browse the lists for the very best diversions the capital has to offer...
Best Attractions in London - 101 Things To Do in London -Time Out London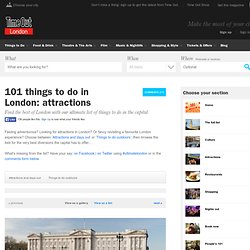 Discover the best things to do in the capital as recommended by real Londoners After creating our own list of 101 things to do in London we decided to let you have your say. We asked Time Out readers, Facebook fans and Twitter followers to tell us their top things to do in the capital. Kayak tours, daytime clubbing, rooftop cinema and candlelit gigs – Time Outers named them all. Check out the people's 101 and explore this city like a true Londoner. What's missing from the list?
Cultural activities in London – People's choice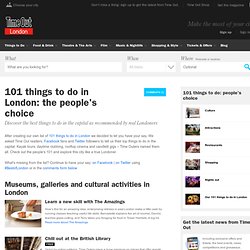 Welcome to the definitive guide to getting the most out of London: our list of the 101 best things to do in the capital, which has been put together by Time Out's troop of expert writers and editors (along with suggestions from well-known London bloggers). Our roll call represents the very best this city has to offer – from top museums and cultural days out to great shops and markets and restaurants, with a few unique tours of London along the way. See the full list or choose a category below to get started...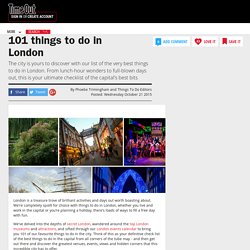 Culture, Theatre and Art - 101 Things To Do in London
Scroll through the list below to discover our selection of the capital's unmissable museums, galleries, visitor attractions and landmarks. No other city in the world can match London's spectacle of history, art, iconic buildings and cultural oddities... What's missing from the list? Have your say: on Facebook | on Twitter using #ultimatelondon or in the comments form below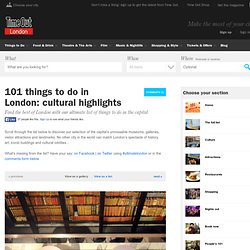 What's On in London? ~~ London Events Guide
Scaresville - The Haunted Village - 2012 | Scaresville, Suffolk
Go to: Main ContentGo to: Navigation