Interior Design
Houzz - Home Design, Decorating and Remodeling Ideas and Inspiration, Kitchen and Bathroom Design. Modern Small Apartment With Delightul Details. Advertisement Looking planning solutions for tight spaces?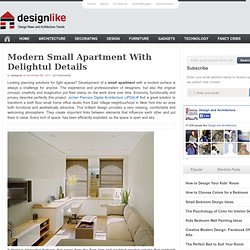 Development of a small apartment with a modest surface is always a challenge for anyone. 25 Cool Ideas To Display Family Photos On Your Walls. We've already showed you a bunch of cool ideas showing how you can hang your photos and art in creative ways.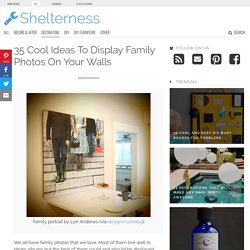 Now we're going to be more specific and show how you can organize family photos on your walls. In this gallery you'll find more than enough inspiration to make your own family photo display. Photos on walls are always great because they bring up memories and make these walls less boring so don't hesitate to try that out. DIY Natural Wood Photo Display (via pinterest) 10 Incredibly Cool Shelves. Jaguar Shelf This is a real Jaguar that's been gutted of its heavier parts and hung on a wall to serve as a shelf.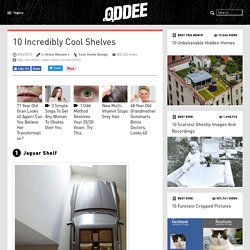 Why? No clue. I guess that's what rich people do. Fold-out Shelf. Most amazing apartment ever! - MAIYA - MY ADVENTURE IS YOUR ADVANTAGE :: ART / DESIGN / FASHION / DECOR. Ah, jeez.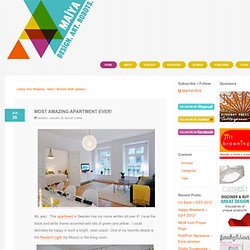 This apartment in Sweden has my name written all over it! I love the black and white theme accented with bits of green and yellow. I could definitely be happy in such a bright, clean place! One of my favorite details is the Random Light (by Moooi) in the living room. Space Saving Tiny Apartment, New York. This tiny but highly sophisticated studio apartment in the East Village of NYC has made us very proud, thanks to JPDA.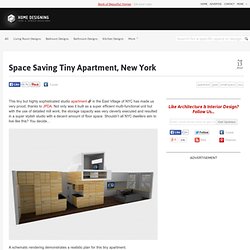 Not only was it built as a super efficient multi-functional unit but with the use of detailed mill work, the storage capacity was very cleverly executed and resulted in a super stylish studio with a decent amount of floor space. Shouldn't all NYC dwellers aim to live like this? You decide… California Home + Design | Your online home + design directory. Home, Building, Furniture and Interior Design Ideas.
South Shore Decorating Blog. Dornob | Modern Home, Interior & Furniture Designs & DIY Ideas. ChicTip.com - Interior Design Blog - Interior Design Ideas, Tips & Inspiration. A chandelier that turns a room into a forest. 10 Beautiful Living Rooms Design Ideas. Source : Freshome We have collected hundreds and hundreds of images of interior design for home design inspiration since we started ChicTip.com.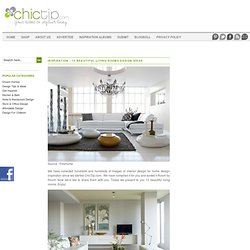 We have compiled it for you and sorted it Room by Room. Now we'd like to share them with you. Today we present to you 10 beautiful living rooms. Enjoy! 13 Super Secret Stair Storage Ideas. Brilliant Stairs photos. Designer's Portfolio: Room Design Ideas & Styles For Your Home. My HGTV Log InorJoin Now Person McSmith Person McSmith.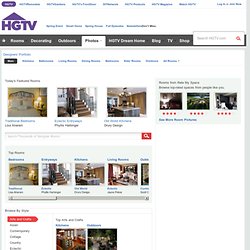 Home Decorating Ideas, Kitchen Designs, Paint Colors. Houzz - Home Design, Decorating and Remodeling Ideas and Inspiration, Kitchen and Bathroom Design. Asian Bathroom Design, Pictures, Remodel, Decor and Ideas. 19 Dream Tubs for Bath Lovers. This is the photo that got me busy writing this ideabook.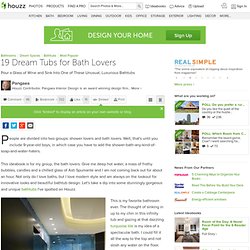 I had never before seen a glass-sided bathtub, and this one completely appeals to my minimalist tendencies. The architect, David Stern, says the client wanted this custom made tub for the kids bathroom and wanted it to feel fresh and fun. Well, he succeeded. But here is what I want to know: Why should the kids have all the fun? OVERFLOW BATHTUBS | BY KASCH. Times Interior - Online Interior Magazine - interior designs : Interior design magazine, interior home design, residential interior design, luxury interior designs.
Superior Interiors. A completely renovated first apartment. What a makeover!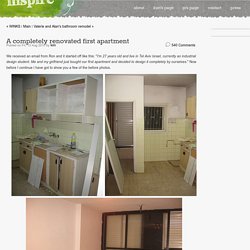 This made me feel 'myownapartamentsick' even more than ever :)bulb-lamp is great, i also made something like that, but there were less bulbs so the effect wasn't that stunning. love the shower, look really great, also the brick wall and, what surprised me, that green tone in the bedroom. you had great ideas and you fortunately put them into effect. the one thing i dislike is a study room. i hate that desk and chair, they just so boring actually. but i adore the red wall and those cat-things, sorry, i have no idea how to call it. ;) great job! The Selby + Simple Creative Home. Posted by rd on Wednesday, October 19, 2011 · I recently discovered The Selby, and here is a home, more or less 1000 sq ft., bursting with neutral colors making it 'bigger' than it actually is.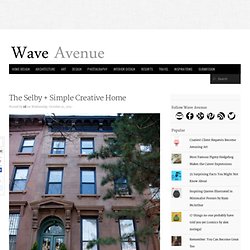 I really love the combination of open planning and simple palette in this home.. Everything's seems within reach but doesn't appear too crowded.. Every area is properly spaced.. First thing that caught my eye was the loft guest bed (sleeps overs not a problem!).. Outdoor style. [...] miss, miss design, miss-design, missdesign, design, illustration, interior, interior design, style interior, interior old style, workspace, workplace, creative workspace, veranda, garden, balcony, exterior, photography, studio, 3d, typography, blog, person, architecture, arts, creative, layout, design studio, inspire, inspiration, technology, resources, tools, internet tools, discussions, bridal bouquet, font, free font, digital art, logo, logotype, typographic design, tutorial, tutorials, icon, icon tutorial, how to, industrial design, camera lens, canon, nikon, pentax, olympus, books, bookshelves, cupboard, chair, unique style, unique design, unique interior, before and after, benchmark Outdoor style | Miss Design – StumbleUpon [...]
Houses Home Interiors Design | Houses | House Plans | Home Interiors | Decoration. Stunning Home Interior Decoration Render | Hahoy.Com. Compared with Alessandro's work these images provide more pressure to the interior and the medium used to create them is also different. Anton used 3DS Max to design and VRay for Maya rendering while Alessandro choose to MentalRay for rendering.
For the clueless, the level is very difficult to achieve photorealism in computer CAD and if you are able to do this means that you are the very cream your trade practices. stunning living room decor stunning living room decor. Mplementary colours « Root Creations. Another great article by Rikard Rodin of Zeven Design. One of the basics of design is colour harmony. This is how colours are combined in an image. Done correctly, the image will look good. Done incorrectly and the image will look amateur. Colour harmony is determined using a colour wheel. Bedroom Decorating Ideas: Yellow Fever. Drop Dead Luxury and Gorgeous Bedrooms 2011: Stunning Bedroom Guest House Like in the Library | Home Design Ideas. We collect bedroom pictures and every bedroom has a different characteristic. One change you to the Victorian era, the other takes you walk through the rooms of a house on some quiet street. Some beautifully lit, some have got the curtain even the simplest would be for them.
6 Summer Bunk Bed Rooms. Bookshelf Porn.
---