Drinks
About Us. Simple Green Smoothies is an online resource for rawesome people who want to learn how to blend healthy green smoothies that taste really good.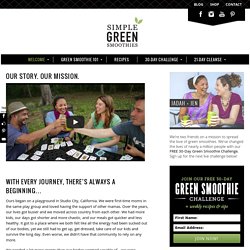 By introducing more leafy greens into your diet, you will reap the benefits of phytonutrients, antioxidants, and essential vitamins and minerals . In other words— green smoothies will rock your body. Shakes Recipes - Healthy Shake Recipes - Diet Shake Recipes - Indian Shake Recipe. Smoothie Recipes : Fruit Smoothies Recipe: Healthy Smoothies. Fruit & Green Smoothie Recipes. Flu-Buster Clementine Creamsicle Smoothie. I've been playing nurse for the past few days, doing my best to help Eric beat his flu (and not catch it myself!).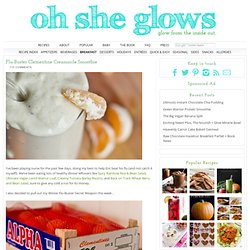 We've been eating lots of healthy dinner leftovers like Spicy Rainbow Rice & Bean Salad, Ultimate Vegan Lentil Walnut Loaf, Creamy Tomato Barley Risotto, and Back on Track Wheat Berry and Bean Salad, sure to give any cold a run for its money. I also decided to pull out my Winter Flu-Buster Secret Weapon this week… Ah Clementine's, the perfect winter fruit to ward off a cold, don't you think? Eric and I have been eating these juicy little delights non-stop, but when he started to feel like he was getting a fever, all he wanted was something COLD to soothe his throat and help his body cool down. I started thinking about packing vitamin C into a delicious smoothie and then it hit me – Why not make a smoothie based off of one of our favourite childhood popsicles- the Creamsicle?
20 Summer Smoothie Recipes. By kathypatalsky | rainbow of vegan smoothies It's hot and you're thirsty – so I'm serving up 20 Summer Smoothie Recipes!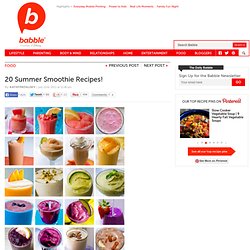 Magical milk shakes - Healthy Milk Shakes and Smoothies. Your passion for healthy living brought you here - let's keep talking!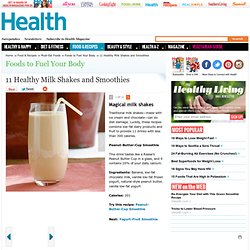 Foods to Fuel Your Body Magical milk shakes. Stacy Stowers. There's a very good reason why it's called the Happy Shake!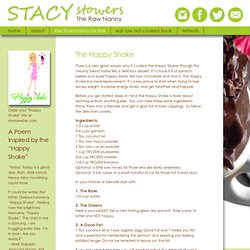 Though this creamy blend tastes like a delicious dessert, it's chock-full of spinach, berries and super happy foods, like raw chocolate and maca. The Happy Shake is a meal replacement. It's a key place to start when trying to lose excess weight, increase energy levels, and get healthier and happier. Pineapple ginger smoothie. So, my mom just bought her first jar of coconut oil this month, and I have had a blast (a little too enthusiastically) explaining the hundreds of ways that you can use it.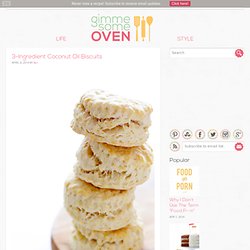 I mean, just yesterday we had a very deep conversation about oil pulling as I was walking through the produce section at Costco. No one gave me weird looks at all… But amongst the thousands of recipes out there using coconut oil, I think I have discovered a new favorite. It began with a craving for biscuits, and a bag of self-rising flour that I needed to use up, and an old 3-ingredient recipe that used to call for shortening. Nowadays, anytime I see shortening, it's like the recipe is just begging me to try substituting in some coconut oil to see if it works.
---