Beauty
Beauty. Viva Woman: Singapore beauty blog with an Asian focus on organic skin care & mineral sunscreens. 25 Beauty Tips Reusing Household Items – Homemade Beauty Tips on ELLE. 1.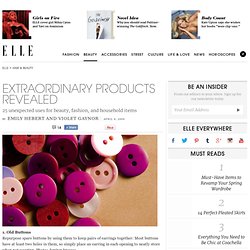 Old Buttons Repurpose spare buttons by using them to keep pairs of earrings together: Most buttons have at least two holes in them, so simply place an earring in each opening to neatly store when not wearing. Photo: Jupiter Images 2. Eyebrow Brush Stuck without a lint-remover? Use this handy makeup tool to remove unwanted fuzz from your shirt. How to Make Your Own Beauty Products from Scratch - Lifestyle.
Let's keep things simple this week.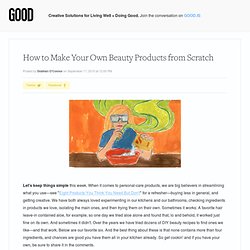 When it comes to personal-care products, we are big believers in streamlining what you use—see "Eight Products You Think You Need But Don't" for a refresher—buying less in general, and getting creative. We have both always loved experimenting in our kitchens and our bathrooms, checking ingredients in products we love, isolating the main ones, and then trying them on their own. Sometimes it works: A favorite hair leave-in contained aloe, for example, so one day we tried aloe alone and found that, lo and behold, it worked just fine on its own.
And sometimes it didn't. Over the years we have tried dozens of DIY beauty recipes to find ones we like—and that work.
Makeup. Hair. YouBeauty - The Science of a Beautiful You. 10 More Secrets to Clear Skin & A Flawless Complexion | Epic Beauty Guide. Ooohkay, so I have more tips for you on get­ting clear, flaw­less skin!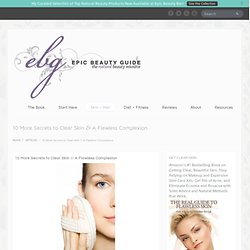 The more I rack my brain, the more stuff comes up. Here is a list of posts I wrote before that are all about clear­ing up acne and get­ting a flaw­less complexion: Now on to the "10 Secrets":
---