Startups
Main cesspool - 10 Places to Find Internet Startup Business Ideas for 2011 – Internet Business Startup Ideas for 2011. Main cesspool - 100 Brilliant Ideas. Brilliance expresses itself in many ways--from the esoteric tinkerings of a mad genius to the profit-heavy balance sheets that illustrate the work of astute executives.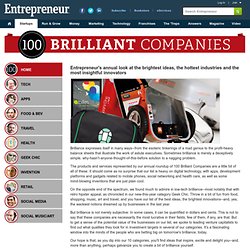 Sometimes brilliance is merely a deceptively simple, why-hasn't-anyone-thought-of-this-before solution to a nagging problem. The products and services represented by our annual roundup of 100 Brilliant Companies are a little bit of all of these. It should come as no surprise that our list is heavy on digital technology, with apps, development platforms and gadgets related to mobile phones, social networking and health care, as well as some mind-blowing inventions that are just plain cool. On the opposite end of the spectrum, we found much to admire in low-tech brilliance--most notably that with retro hipster appeal, as chronicled in our new-this-year category Geek Chic. Artfinder — Experience the art of discovery. Is this the start of the second dotcom bubble? | Business | The Observer.
Two years ago, anthropologist Sekai Farai was awarded a grant by Columbia University to study the technology startup community.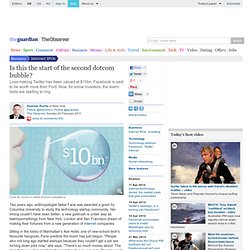 Her timing couldn't have been better: a new goldrush is under way as twentysomethings from New York, London and San Francisco dream of making their fortunes from a new generation of internet companies. Sitting in the lobby of Manhattan's Ace Hotel, one of new-school tech's favourite hangouts, Farai predicts the boom has just begun. "People who not long ago started startups because they couldn't get a job are turning down jobs now," she says.
"There's so much money about. The idea that your idea could be the next big idea is very real. Yea.fm streaming.
---