Fonts
20 Free Fonts Ideal For Logos And Headings. 26 Beautiful Free Retro Fonts. 50 Best Free Fonts Having Commercial Use License. Top. 36 High-Quality Latest Free Fonts To Enhance Your Designs | Fonts. Typography is the art and techniques of arranging type, type design, and modifying type glyphs.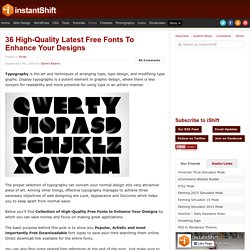 Display typography is a potent element in graphic design, where there is less concern for readability and more potential for using type in an artistic manner. The proper selection of typography can convert your normal design into very attractive piece of art. Among other things, effective typography manages to achieve three necessary objectives of web designing are Look, Appearance and Outcome which helps you to keep apart from normal wave. Below you'll find Collection of High-Quality Free Fonts to Enhance Your Designs by which you can save money and focus on making great applications. 50 Fresh Free Fonts of 2010. Though there's a broad variety of fonts available for download online, designers keep on tracing the fresh ones to enhance their design copy, a website, brochure, or even an advertisement in a brand new an' awesome way.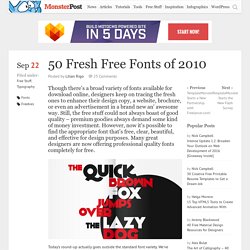 Still, the free stuff could not always boast of good quality – premium goodies always demand some kind of money investment. However, now it's possible to find the appropriate font that's free, clear, beautiful, and effective for design purposes.
---