CSS
CSS Drive- CSS Examples. CSS Candy Menu Posted on: 10/16/2008 Candy Menu is a stylish CSS drop down menu that's comes in six provocative colors to get you started.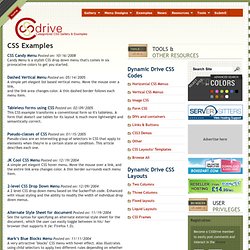 Dashed Vertical Menu Posted on: 05/14/2005 A simple yet elegant list based vertical menu. Move the mouse over a link, and the link area changes color. A thin dashed border follows each menu item. CSS3.0 Maker | CSS3.0 Generator | CSS 3.0 Generator | css3 generator. The 30 CSS Selectors you Must Memorize. Twice a month, we revisit some of our readers' favorite posts from throughout the history of Nettuts+.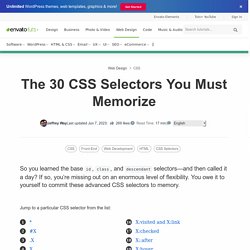 This tutorial was first published in November, 2010. So you learned the base id, class, and descendant selectors - and then called it a day? If so, you're missing out on an enormous level of flexibility. While many of the selectors mentioned in this article are part of the CSS3 spec, and are, consequently, only available in modern browsers, you owe it to yourself to commit these to memory.
Let's knock the obvious ones out, for the beginners, before we move onto the more advanced selectors.
---