Webprogramm Tools
Adaptive Images in HTML. Leak-finder-for-javascript - Tool for finding memory leaks in JavaScript programs. In JavaScript you cannot have "memory leaks" in the traditional sense, but you can have objects which are unintentionally kept alive and which in turn keep alive other objects, e.g., large parts of DOM.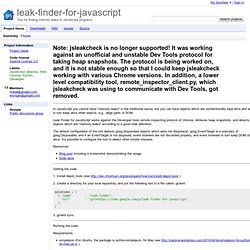 Leak Finder for JavaScript works against the Developer tools remote inspecting protocol of Chrome, retrieves heap snapshots, and detects objects which are "memory leaks" according to a given leak definition. The default configuration of the tool detects goog.Disposable objects which were not dispose()d. goog.EventTarget is a subclass of goog.Disposable, and if an EventTarget is not disposed, event listeners are not discarded properly, and event listeners in turn keep DOM objects alive. It's possible to configure the tool to detect other similar misuses. Resources: Getting the code:
Markupwand | Magically convert Photoshop designs to valid HTML markup. MiniAjax.com / Highlighting Rich Experiences on the Web. ProCSSor - Advanced CSS Prettifier. Create Your Own @font-face Kits. CSS3 Menu. Free CSS Menu Maker. 8 Useful CSS Tools. Writing better CSS is something all web designers and developers should strive for, and thankfully there are some useful tools out there to help do just that.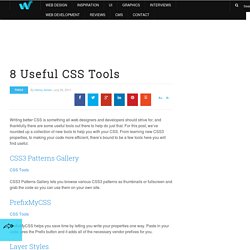 For this post, we've rounded up a collection of new tools to help you with your CSS. From learning new CSS3 properties, to making your code more efficient, there's bound to be a few tools here you will find useful. CSS3 Patterns Gallery. Spritebox - Create CSS from Sprite Images. Golden Grid System. 15 sites web developers and designers should know. ColorCombos When designing a website, one of the firsts (and most important) steps of the process is to choose a color scheme.
Color Combos allow you to browse thousand of different colors combinations for getting inspired for your upcomming design. Color schemes can be browsed by colors.Visit colorcombos.com. 40 Online Generators for Web Designers Should Bookmark. Online Generators for Web Designers can be a great way to save time in your web design projects.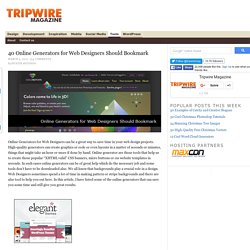 High-quality generators can create graphics or code or even layouts in a matter of seconds or minutes, things that might take an hour or more if done by hand. Online generator are those tools that help us to create those popular "XHTML valid" CSS banners, micro buttons or css website templates in seconds. In such cases online generators can be of great help which do the necessary job and some tools don't have to be downloaded also. Screenfly by QuirkTools — Test Your Website at Different Screen Resolutions. Favicon.ico Generator. PhoneGap. Libaries. ResizeMyBrowser. The WebKit Open Source Project.
Meteor. HTML5 CSS3 Tools. Check Browser Compatibility, Cross Platform Browser Test - Browsershots. Mini simulator. IE NetRenderer - Browser Compatibility Check -
---