Webdesign News/Blogs/Tutorials
Learn Web Design, Web Development, and iOS Development - Treehouse. Web Design Tutorials | Create A Website | Make A Website | Learn Flash. Codrops. A proof-of-concept effect recreation of the animation seen in a prototype app by Marcus Eckert.
The idea is to flip a grid item in 3D, expand it to fullscreen and reveal some associated content. We've created two demos with a vertical and a horizontal rotation. read more Some inspiration and ideas for item transitions considering different scenarios and use cases, including a small component, a full-width image header and a product image with a transparent background. Best Open Source Resources for Web Developers | WebAppers. Free Online Resources For Developers, Designers and Photographers @Smashing Hub.
10 Usability Tips Based on Research Studies. We hear plenty usability tips and techniques from an incalculable number of sources.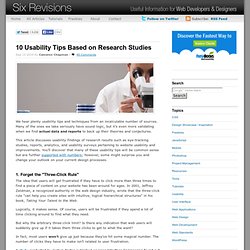 Many of the ones we take seriously have sound logic, but it's even more validating when we find actual data and reports to back up their theories and conjectures. This article discusses usability findings of research results such as eye-tracking studies, reports, analytics, and usability surveys pertaining to website usability and improvements. You'll discover that many of these usability tips will be common sense but are further supported with numbers; however, some might surprise you and change your outlook on your current design processes. 1. Forget the "Three-Click Rule" Critical thinking web. Free Web Design Articles, Web Design Tutorials & Web Design Resources. How to Get 5 Million People to Read Your Website [VIDEO] The Next Web - International technology news, business & culture.
Web developer juice - By web developers for web developers. Web Design Blog, Tutorials and Inspiration | Web Design Ledger. Tech King. Working as a freelancer gives you a great freedom, but up until recently, you were still tied to your office or home computer.
With the rapid spread of the wireless Internet and the launch of mobile devices such as iPhones, iPads, and iPod Touch, this has changed and now you can work sitting in your favorite coffee shop or from any spot in the World, as long there is an Internet connection. Listed below are 50 apps, which can help you stay in touch with your clients, send invoices, track your earnings, and on conduct business on the go. Web Designer Wall – Design Trends and Tutorials. Artikel, Tutorials, Downloads, Tipps, Hacks, Snippets und aktuelle Szene-News rund um Webdesign und digitale Bildbearbeitung | kulturbanause blog.
Ontwik | Free Lectures, Screencasts and conferences for real developers & designers. Best Web Design Blog – WebDesignShock. 1stwebdesigner - Graphic and Web Design Blog. 60+ Killer Open Courseware Collections for Web Designers. The Internet being what it is, web designers do not have a hard time finding resources.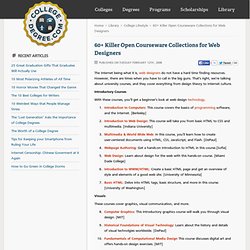 However, there are times when you have to call in the big guns. That's right, we're talking about university courses, and they cover everything from design theory to Internet culture. Noupe Design Blog. Design Inspiration. 10 Useful Usability Findings and Guidelines - Smashing Magazine. Advertisement Everyone would agree that usability is an important aspect of Web design.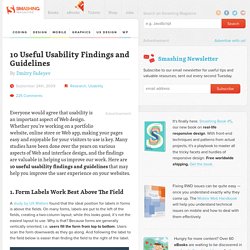 Whether you're working on a portfolio website, online store or Web app, making your pages easy and enjoyable for your visitors to use is key. Many studies have been done over the years on various aspects of Web and interface design, and the findings are valuable in helping us improve our work. Here are 10 useful usability findings and guidelines that may help you improve the user experience on your websites. 1. Articles. A Craft Of Consequences: Reader, Writer And Emotional Design Before the very first page of a book has been read, you've already analyzed it in countless ways without even noticing.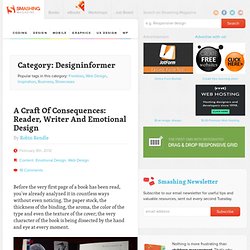 The paper stock, the thickness of the binding, the aroma, the color of the type and even the texture of the cover; the very character of the book is being dissected by the hand and eye at every moment. In this brief second there is a dialogue between the reader and the object. This conversation is subtle and complex, but for most people it is entirely subconscious. Weblog • Peter Kröner, Webdesigner & Frontendentwickler. Wenn ich Programmierern, die bisher mit Webentwicklung eher wenig am Hut hatten, JavaScript nahebringe, fange ich gerne mit den Bad Parts, den WTFs und den Wats an.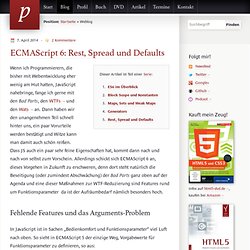 Dann haben wir den unangenehmen Teil schnell hinter uns, ein paar Vorurteile werden bestätigt und Witze kann man damit auch schön reißen. Dass JS auch ein paar sehr feine Eigenschaften hat, kommt dann nach und nach von selbst zum Vorschein. Allerdings schickt sich ECMAScript 6 an, dieses Vorgehen in Zukunft zu erschweren, denn dort steht natürlich die Beseitigung (oder zumindest Abschwächung) der Bad Parts ganz oben auf der Agenda und eine dieser Maßnahmen zur WTF-Reduzierung sind Features rund um Funktionsparameter da ist der Aufräumbedarf nämlich besonders hoch. Fehlende Features und das Arguments-Problem In JavaScript ist in Sachen "Bedienkomfort und Funktionsparameter" viel Luft nach oben.
---