Illustration Paiting
Web Design and Development Tutorials, Articles, Templates and Forums | Elated.com.
Grafikdesign. Creating Complex Style Illustrations: A Process. Learn the process of making a tribal-style illustration using only some fundamental techniques in Adobe Illustrator.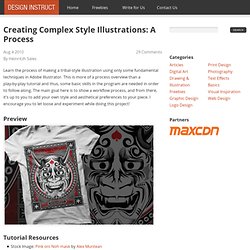 This is more of a process overview than a play-by-play tutorial and thus, some basic skills in the program are needed in order to follow along. The main goal here is to show a workflow process, and from there, it's up to you to add your own style and aesthetical preferences to your piece. I encourage you to let loose and experiment while doing this project!
Textures Referenz. Graffity. Tutorials Painting/Illustation.
---