Buniesscards Design
27 Stunning Black Letterpress Business Cards. We have seen a lot of inspiring galleries featuring letterpress business cards on white card stock.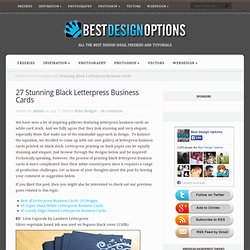 And we fully agree that they look stunning and very elegant, especially those that make use of the minimalist approach in design. To balance the equation, we decided to come up with our own gallery of letterpress business cards printed on black stock. Letterpress printing on back paper can be equally stunning and elegant. Just browse through the designs below and be inspired! Technically speaking, however, the process of printing black letterpress business cards is more complicated than their white counterparts since it requires a range of production challenges.
18 Clever and Creative Business Card Designs. Collection of 'Clever and Creative Business Card Designs' from all over the world.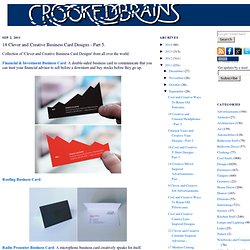 Financial & Investment Business Card: A double-sided business card to communicate that you can trust your financial advisor to sell before a downturn and buy stocks before they go up. Roofing Business Card: Radio Presenter Business Card: A microphone business card creatively speaks for itself. Makeup Business Card: A special stamp that creates a lipstick mark was used to stamp materials such as napkins, paper sheets, tissues etc., to create an unusual business card to offer the makeup services to the customer. 30 Fantastic Transparent Business cards. Get the FlatPix UI Kit for only $7 - Learn More or Buy Now In this roundup we have compiled some awesome and fantastic transparent business cards for inspiration.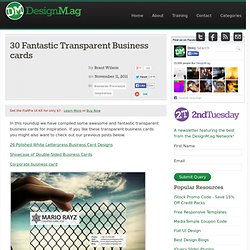 If you like these transparent business cards you might also want to check out our previous posts below. 26 Polished White Letterpress Business Card Designs. 40+ Luxury Business Cards | Unique Business Cards. The best way stand out in a crowd is to be different.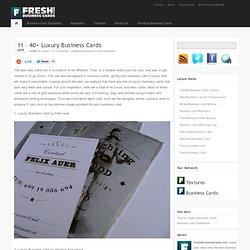 Thus, in a modern world such as ours, one way to get noticed is to go luxury. This can also be applied to business cards, giving your business card a luxury look will make it memorable. 12 Creative Business Cards. 40 Business Cards Design for Your Inspiration. Nowadays business cards are not a mere piece of paper with common information of an individual such as telephone number, e-mail, postal address and their title.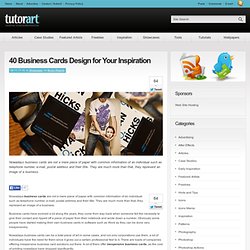 They are much more than that, they represent an image of a business. Nowadays business cards are not a mere piece of paper with common information of an individual such as telephone number, e-mail, postal address and their title. They are much more than that, they represent an image of a business. Business cards have evolved a lot along the years, they come from way back when someone felt the necessity to give their contact and ripped off a piece of paper from their notebook and wrote down a number. 30 Creative QR code business cards. There is a lot of buzz around QR codes at the moment, so we thought we would take a look at some of the most creative and stunning QR code business cards on the web.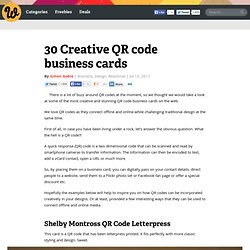 We love QR codes as they connect offline and online while challenging traditional design at the same time. First of all, in case you have been living under a rock, let's answer the obvious question. What the hell is a QR code?! A quick response (QR) code is a two dimensional code that can be scanned and read by smartphone cameras to transfer information. Peter Crawley | Stitched Illustrations. 21 Cartoon Business Cards That Are Too Cute for Words. Looking for a way to make your business cards stand out?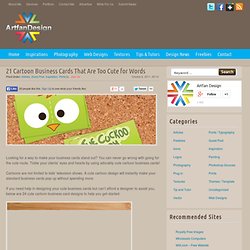 You can never go wrong with going for the cute route. Tickle your clients' eyes and hearts by using adorably cute cartoon business cards! Cartoons are not limited to kids' television shows. 70 Best and Creative Designs of Business Cards | Web Resources, Design Inspiration, and Fun Spill! 40+ Letterpress Business Cards | Unique Business Cards. We use colours to make our business cards unique.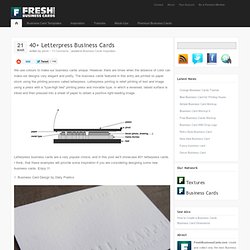 However, there are times when the absence of color can make our designs very elegant and pretty. The business cards featured in this entry are printed on paper stock using the printing process called letterpress. Letterpress printing is relief printing of text and image using a press with a "type-high bed" printing press and movable type, in which a reversed, raised surface is inked and then pressed into a sheet of paper to obtain a positive right-reading image. 30 Die Cut Business Cards | Die Cut Business Card Collection. Its a known fact that good design increases customers attention towards your design.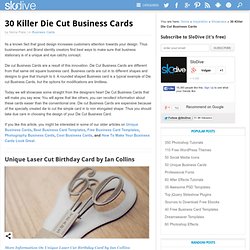 Thus businessmen and Brand identity creators find best ways to make sure that business stationary is of a unique and eye catchy concept. Die cut Business Cards are a result of this innovation. Die Cut Business Cards are different from that same old square business card. Business cards are cut in to different shapes and designs to give that triumph to it. A rounded shaped Business card is a typical example of Die cut Business Cards, but the options for modifications are limitless.
---